Carson leads southland cities with new developments, budget surplus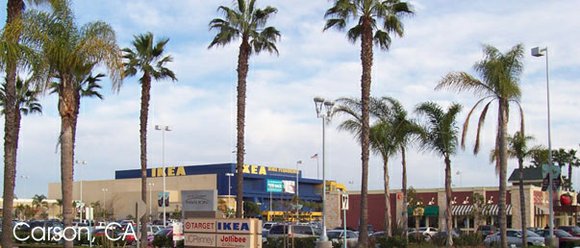 By virtue of L.A.'s unofficial title as the "car capital of the world," the automobile industry has for decades looked to the South Bay region as inspiration for the most cutting-edge ideas in design and engineering technology. The Porsche Experience Driving Center, also occupying a landfill near the junction of the 405 and 110 freeways, is not a race track. Instead, the facility serves as a driver-training center with two handling courses, an acceleration/deceleration area, an off-road course, an ice/low-friction course, and related auto repair activities.
Wal-Mart is moving into Carson. The retail giant's new Wal-Mart Neighborhood Market is replacing Bestway Market at 20220 Avalon Blvd. and will feature interior upgrades to the 20,900 square-foot facility, as well as an enhanced loading/service bay.
"We tightened our belts during the recession," said councilwoman Lula Davis-Holmes. "We have a good team of councilmembers, staff and employees who determined that if it's not a necessity, it should be eliminated. We maintained and increased our budget surplus by not filling any vacancies. The staff here came to our rescue in a collaborative effort. These decisions did not simply come from the top. Everyone was brought into the concept."
Carson, incorporated in 1968, occupies a unique place among South Bay municipalities, with a budget surplus estimated at $29.6 million for fiscal year 2011-12. This compares with nearby Long Beach which was mired in a $17.2 million deficit; neighboring Torrance, despite an expected shortfall this year, has a balanced budget. Compton, which borders Carson on the northeast, by the start of the fiscal year 2011-12 saw its perennial deficit swell to $41 million. Los Angeles has one of the nation's largest budget shortfalls, once projected at $251 million. Carson's general fund decreased 13 percent during fiscal year 2009-10 from $20 million to $18.2 million, but rebounded two years later to the present figure.
"We never got below 25 percent in reserve funds," said Jackie Acosta of the Carson treasurer's office. "We have some budget gaps to close this year, and we will address these to make sure the city remains fiscally sound."
Carson is the only South Bay city with no utility user tax (electricity, gas, sanitation, etc.). By comparison, about one-third of Compton's general fund comes from utility taxes. Carson has the lowest development and planning fees and the second lowest business license fee ($2,000) behind Compton at $3,000. El Segundo leads metropolitan Los Angeles with a $13,000 business license fee.
Sales and property taxes are Carson's prime sources of revenue, combining for $36.4 million for fiscal year 2011-12. Like most Southland cities, the Carson housing market is struggling to rebound from the recession. The yearly turnover rate for home sales/purchases is 14.6 percent, while 47.5 percent of homeowners have resided in their present location for five or more years. The median home price in Carson is $275,000.
The majority of small businesses in Carson are oriented to take advantage of the South Bay's "Golden Triangle," or, the general proximity of the Los Angeles and Long Beach harbors, the Alameda Corridor and LAX. Wholesale distribution, manufacturing and transportation are the city's three most common industries employing an average of 22.1 persons per small business.