Carson leads southland cities with new developments, budget surplus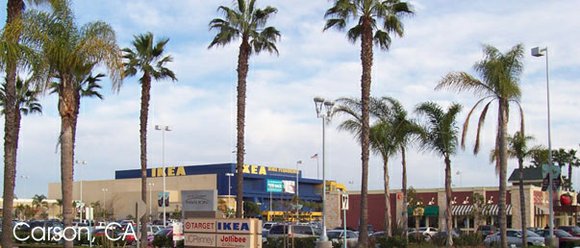 The little city of Carson has slowly moved past the day when motoring Angelenos, taking a leisurely drive south to seaside attractions in San Pedro, Long Beach or Palos Verdes, would cruise past the sleepy bedroom community often associated with smelly refineries, abandoned oil fields and early strip malls. The Goodyear blimp, hovering over its landing field, was one of the few points of distinction.
Located about 13 miles south of Downtown Los Angeles, Carson was just a fleeting glance at 65 miles-per-hour along the Harbor Freeway; no high-rise buildings to speak of, no amusements to pique the interest, nothing memorable besides car dealerships to make the curious exit the 110 on one of the city's few off-ramps.
Today, Carson is poised to become one of the Southland's significant destinations for residents, corporations and visitors alike. Following the re-election of Mayor Jim Dear and realignment of the City Council, a number of new construction projects have been completed in Carson, most notably the ultra-modern Renaissance at City Center, a mixed-use development of residential units and retail outlets at the corner of Avalon Boulevard and Carson Street.
"I received a mandate from the people to continue progress in Carson," Dear said. "I want to transform Carson into a destination community. For years people would just drive past the city on the freeway and not stop. Now we have some of the most appealing attractions in the South Bay region. Take restaurants for example. When I was first elected we had a 17-year hiatus on restaurant openings. Now we offer just about every type of cuisine to the varied cultures which make up greater L.A. We plan on continuing this vein of transforming Carson in Southern California's premier locale for dining."
Construction is ongoing at the Boulevards Outlets at the 405 Freeway and Avalon Boulevard. Calling for a potential mix of nearly 1.9 million square feet of commercial, retail and entertainment space to include a 300-room hotel and up to 1,550 residential and/or multifamily units, the Boulevards Outlets will offer more than 500,000 square feet of retail stores.
Because the Carson landscape has sometimes been synonymous with landfills, approval for construction at The Boulevards had to be obtained from the state Department of Toxic Substance Control. Therefore, a landfill gas collection system is being installed over the site to collect any residual fumes that may be released during construction.
City officials tout The Boulevards development as a job creator, adding as much as 4,500 construction jobs and more than 5,000 permanent jobs. Upon completion, the project could increase the Carson general fund by more than $5 million annually in sales, hotel fees and property taxes. Carson residents are not expected to pay for this development because no money from the general fund is anticipated to be used.
The South Bay Pavilion (formerly the Carson Mall) on Avalon Boulevard is undergoing refurbishment with the addition of movie theaters; Millennium High School on the property will be relocated as will the Chuck E. Cheese restaurant and the Old Navy store to make way for the theater complex.