Black racers and fans are finding their place in drag racing
Champion Antron Brown blazes a trail, with Jason Weick not far behind.
By Jason Lewis | 2/26/2014, 9:47 p.m.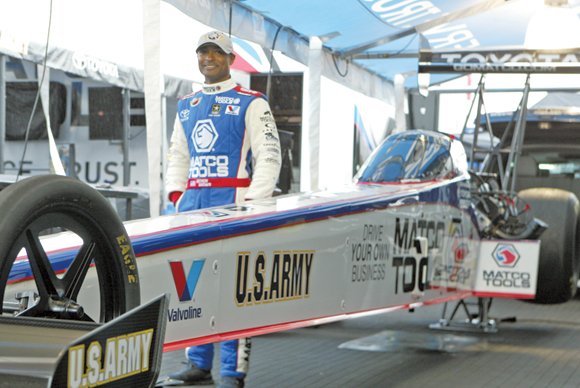 "My ultimate goal is to be the best at it (racing) that there ever was," Weick said.

Weick is fully dedicated to drag racing, as he made his decision on what he wanted to do with his life at an early age.
"This has been my dream since I was five years old," Weick said. "This is the only thing that I've ever wanted to do in life. As crazy as it sounds, I feel that I was put here to race."
Weick made that decision when his father, who was also a racer, took him to the drag races when he was a young child. The sound of the engines and the speed of the cars mesmerized him. His first step to becoming a professional auto racer was taking a drag racing class in 2009, and he has gone on to purchase his own car and start his own company.

Through Jason Weick Racing, he has been able to find his place in the industry, which has opened the doors to networking with the heavy hitters, and allowed him to obtain sponsorships. His sponsors have allowed him to keep his dreams alive, and move up the ranks.
Weick has figured out that the power of social media can make a huge difference. He has more than 50,000 followers between Facebook and Twitter combined. The online presence has made him more attractive to the sponsors, who are the lifeblood of this sport.

It is interesting to see a Black man become so popular in this sport. When people think about auto racing, they think of the good ol' boys, because motor sports are so huge among Southern White people, but in drag racing, Weick said he has not experienced any issues dealing with race. He has found acceptance among his peers.

"Even though there is a small Black community, and a large White community, and a Hispanic community, and an Asian community, there's really not those color lines out there," Weick said. "If a racer that you happen to know really well is a Black racer, then yeah, he'll help you out just as much as a White racer would, or an Asian racer or a Mexican racer.
"The drag racing community is almost like that society that everybody wants," Weick continued. "Overall, I don't see a lot of racism or bigotry in drag racing. We're a close knit family, and what it comes down to is that we're drag racers."
Weick said that he sees a lot of Black faces in the stands, who are just as accepted into the auto racing culture as White fans. At the Pomona Speed Way, that society that Weick sees among the drivers also exist among the people in the stands.
When it comes to racial diversity, drag racing appears to be ahead of the preconceptions that many people have about auto racing. With a star such as Brown receiving many accolades, and Weick coming on strong with a large following, within the next few years, if Brown continues down the path that he is on, and Weick reaches his goals, the top two figures in a major auto racing sport could be Black.

For more information about Brown and Weick, visit their websites at www.antronbrownracing.com and www.jasonwieckracing.com.