Black racers and fans are finding their place in drag racing
Champion Antron Brown blazes a trail, with Jason Weick not far behind.
By Jason Lewis | 2/26/2014, 9:47 p.m.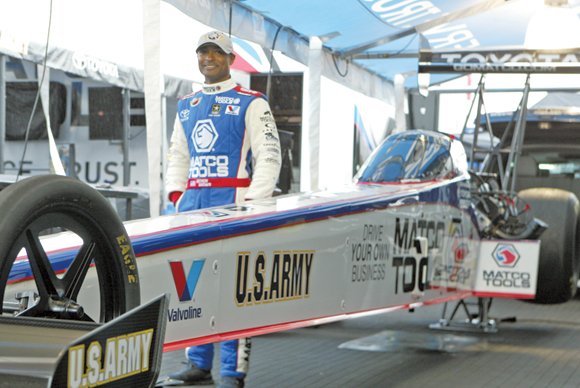 Auto sports has been a predominately White sport throughout the years, but there has been a rich history of Black drivers, with drag racing being the home of some rising stars in the sport.
Antron Brown has already reached the top of the mountain, as he became the first Black driver to win a major American auto racing title. In 2012, he was crowned the Full Throttle Top Fuel World Champion at the Pomona Speedway. He recently returned to the scene of his historic accomplishment, and he's still enjoying the ride.
"It's a great feeling," Brown said. "All of those years that you work so hard, you and your team. Just trying to orchestrate and bring it all together. To get a championship trophy, it makes all of those sacrifices, all the things you go through in life to get to where you're at, it makes all that worthwhile."
Brown comes from a racing family, as his grandfather, father, and uncle were racing for decades before he was able to get behind the wheel. When Brown won the championship, he was in the car by himself, but the victory was more than just his.
"My dad and uncle were very emotional and in tears," Brown said. "They looked at me and said, 'You know, you're living our dream that we always wanted to live. And we're living our dream through you. And thank you so much for the way you represent, not just yourself, but our family.'"
Brown is viewed as a trailblazer by many up-and-coming drivers on the various levels of the sport. He believes that he can inspire younger drivers and fans who see him excelling.
"You see the kids that are coming up in this sport where you give them all hope," Brown said. "Where they say, 'If he can do it, then I can do it.' That's the greatest feeling, to see people be able to grab onto it, and use it to achieve their goals and dreams in life. That's what makes it so awesome.
"You know you're doing your job when people come up to you and go, 'You're my hero,'" Brown continued. "Because they want to be like you. And that means that you're doing the right things in life. That's what makes it so special."

Brown will return to the Pomona Speedway in November for the final race of the season, and he has one goal:

"We're going after that championship, and we're going to give it all we got, leaving nothing on the table," Brown said. "We don't like finishing second, we want to win that championship."
Brown's winning attitude can also be found in up-and-coming driver Jason Weick, who is racing on the Super Comp level, which is a lower level of the sport. His dream for this year is to make it to the NHRA World Finals in Pomona, and by 2016 he wants to be racing on the Top Fuel level. But his dreams do not stop there.