In Ukraine turbulence, a lad from Lviv becomes the toast of Kiev
Yahoo | 2/25/2014, 1:04 p.m.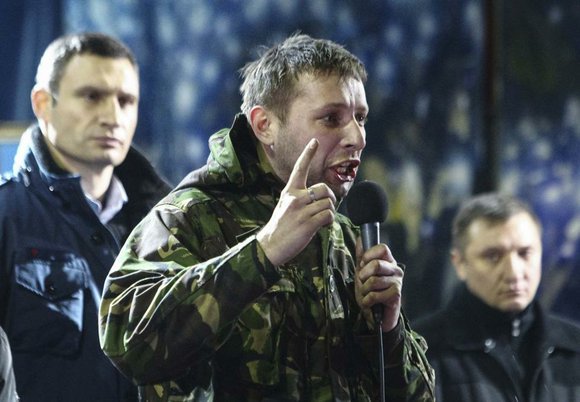 When the history of the bloody turbulence in Ukraine is written, a 26-year-old who learned combat skills in the army cadets may be recorded as the man who made up Viktor Yanukovich's mind to cut and run.
Cars toot a welcome and passers-by press the hand of Volodymyr Parasiuk, a boyish-looking individual who finds it embarrassing to be called a hero.
He reserves that title for his comrades and other protesters among the 80 or so people killed on the capital's streets last week in three days of fighting against Yanukovich's police.
But after opposition leaders had signed an EU-brokered deal with President Yanukovich to end the conflict, it was Parasiuk who commandeered the microphone on Friday night to turn the crowd against it.
With former boxing champion and opposition leader Vitaly Klitschko looking on stony-faced, Parasiuk, from the western city of Lviv, made an electrifying impromptu speech denouncing the opposition for "shaking hands with this killer".
No-one was going to wait for an election later in the year, he said. Yanukovich had to get out of town by the following morning or face the consequences.
To the dismay of opposition leaders, Parasiuk's emotional address - he broke down on several occasions as he remembered dead comrades - touched a chord deep within the thousands on Independence Square who roared their approval.
The opposition had failed to sell their achievements to the 'Maidan', the name for both the square and the protest movement.
An agreement, painstakingly negotiated with EU foreign ministers over a sleepless night, was effectively dead.
The writing was on the wall for Yanukovich.
He flew out of Kiev by helicopter that night, Ukraine's acting interior minister said, and on Tuesday was on the run somewhere in Ukraine, being sought for "mass murder".
"Opposition leaders said they had agreed that there would be early elections in December. This was the Ukrainian people's last drop of patience," Parasiuk told Reuters in an interview.
"Emotions were overflowing because we had lost a great number of people. Suddenly these politicians come and say 'Yanukovich will stay as president and there will be elections.' I have a clear position. Yanukovich is a terrorist, Terrorist Number One, for Ukraine," Parasiuk said.
FLIGHT OF YANUKOVICH
That Friday night, Yanukovich set off on a zig-zag by helicopter and car across eastern and southern Ukraine, looking either for a safe haven or a flight out of the country.
Some believe he may have already decided he was going to flee even before the 'Maidan' gave thumbs-down to the agreement.
Ukraine's opposition, buoyed by the direct intervention of three EU ministers from Germany, Poland and France, had signed an agreement that seemed to meet many of their demands.
It provided for early elections, a national unity government and return to a previous constitution that would take away from Yanukovich control over the appointment of the prime minister and make-up of the government, and return it to parliament.
Almost immediately, the parliament, where Yanukovich's grip had been weakened by desertions by deputies from his Party of Regions, began voting many of these proposals into law.