Lottery introduces California Black Exclusive Scratchers game
Tickets offer sleek look with 20 chances for $1 million top prize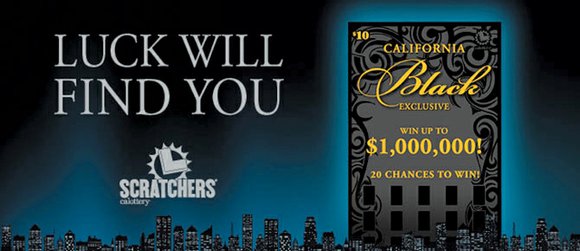 Lady Luck is back—and she's on the hunt again, this time looking to award Californians with two dozen life-changing top prizes of $1 million each. Yes, we're talking potentially seven figures for a $10 investment on the Lottery's latest Scratchers game, California Black Exclusive.
And wait until you see it! It's unlike any of our wide variety of games currently on the market. Whereas most tickets feature bright colors and sparkly patterns—this $10 game is deep black with a touch of gold. We know the color black is steeped with imagery, including sophistication and mystery. Consumers who have seen the ticket are taking note. They describe the 8"x4"-sized Scratchers ticket as bold, elegant and mischievous. The $1 million prize is certainly enticing.
"The last time we introduced our California Black Scratchers game, it sold extremely well,'' said Russ Lopez, California Lottery Deputy Director of Corporate Communications. "Players loved the look, feel and most importantly—all of the prizes! We are confident this new 'exclusive' ticket will do just as well."
If you're hoping this game is as easy to play as it is fun to hold—you're in luck! Just match any of "YOUR NUMBERS" to any of the six "WINNING NUMBERS" and win that prize. Uncover a "10X" symbol to automatically win 10 times that prize. Uncover a "20X" symbol to automatically win 20 times that prize. Uncover a "WIN" symbol and win all 20 prizes automatically!
The odds of winning the $1 million top prize are 1 in 1.2 million. The odds of winning any of the other cash prizes, from $10 up to $20,000, are 1 in 4.11 million. Don't forget, every non-winning ticket can be entered into our 2nd Chance program for another try at becoming California's latest millionaire!
And that's not all! We're adding even more excitement by giving players an extra 2nd Chance code to win $1 million in cash during our End of Game Draw! On the back of every California Black Exclusive ticket is a QR (Quick Response) code. It's a portal to Lady Luck's Challenge—our new exclusive online match game that challenges your memory. There you can enter your 2nd Chance code from your non-winning California Black Exclusive ticket to get a bonus code.
Also, if you need a refresher on what Lady Luck looks like, check her out in the flesh in the hip California Black Exclusive Scratchers television spot. It's airing this month in major markets throughout the state. You can watch by clicking here.
California Black Exclusive $10 Scratchers are now available at more than 21,000 participating Lottery retail locations throughout the state. Remember, luck can strike anywhere—any time!
The game is part of the Lottery's continued effort to give out more prizes, create more winners and earn more money for California public schools. This past fiscal year, the sale of Lottery products generated $1.28 billion for students—the 13th consecutive year more than a billion dollars was distributed to public schools throughout the state. Although a modest amount once divided between 1,600 public school districts, teachers and administrators count on their funds to continue critical learning programs, purchase equipment and even pay teacher salaries.
The mission of the California Lottery is to provide supplemental funding to California schools while simultaneously supporting local communities. More than 95 cents of every dollar spent by our players goes back to local communities in the form of contributions to public schools and colleges, prizes and retail compensation. The California Lottery urges its customers to play responsibly and within their budgets. If you feel you have a gambling problem, or know someone who does, you can get help at 1-800-GAMBLER.