State of the City Address highlights Lancaster's purpose-driven achievements
Mayor Rex Parris recaps a year of progress; assures a future with hope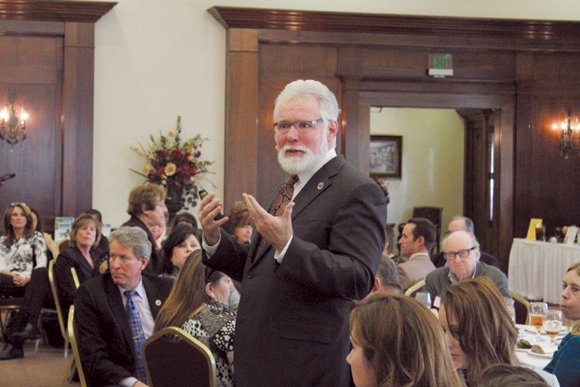 Lancaster Mayor R. Rex Parris delivered the city's annual State of the City Address to the Lancaster Chamber of Commerce at the Hellenic Center in Lancaster this week. During the presentation, Parris shared that the city has made fantastic strides over the past year in a number of areas. By targeting basic societal needs first, then elevating efforts to more grandiose advancements, the city has been able to effectively address issues ranging from crime, health and education to infrastructure, entertainment and economic development.
"I couldn't possibly be any prouder than I am of this great city," said Parris. "We are consistently improving on all fronts, while doing more with less as a community. At times, this has been an uphill battle, but we've never given up on the possibilities; we've taken on every challenge with hope and vigor; and we've moved every step of the way with the resolute purpose of adding increased value to our community."
Despite overwhelming odds, the city of Lancaster has succeeded in both civic and economic improvements. Since 2008, Lancaster's Part 1 Crimes have decreased nearly 40 percent, and continue to trend downward in spite of recent problems introduced by California's prison realignment policy. City officials refuse to waver on their fight against crime, and employ all resources to ensure the overall crime rate continues to go down. With the innovative use of technology; the ongoing application of community-driven commissions; and the enthusiastic engagement of community Neighborhood Watch and Business Watch groups, the combined efforts of law enforcement, city staff and local citizens have proven to be a formidable force against criminals.
Regardless of the crippling statewide elimination of Community Redevelopment Agencies in 2012, Lancaster has continued to grow its economy by attracting such businesses as Build Your Dreams (BYD), Morton Manufacturing, Marriott, and Best Western, to name a few. These developments have contributed to job growth in Lancaster, while additional economic development opportunities are being courted.
In regards to community wellness, the city can now boast of two new major facilities which have recently been completed: the Multi-Service Ambulatory Care Center and the new City of Hope medical and education center. These facilities complement and expand the healthcare information and services available to Valley residents. Later this year, Lancaster will also welcome a new state-of-the-art Kaiser Permanente facility, which will be the first of its kind to utilize solar water heating and reclaimed water.
Along the education front, Lancaster's SOAR High School continues to be the crown jewel of the educational system, performing in the top one percent of high schools in the nation with an API score of 945 at the end of the 2011-2012 school year. In addition, a partnership with the Lancaster University Center and California State University Long Beach has yielded a program in which one can earn a Bachelor's degree in engineering right here in the Antelope Valley in just 2.5 years. The Lancaster University Center has also teamed up with the Coalition for Humane Immigrant Rights of Los Angeles to provide much needed Spanish GED courses in Lancaster.