Homeless population increases in Antelope Valley
Money to help is in short supply
Lancaster Mayor R. Rex Parris last week railed against officials at the Los Angeles Homeless Services Authority (LAHSA) regarding inadequate funding for the growing population of homeless persons in not only his city, but throughout the Antelope Valley.
Though some 13 percent of the county's homeless population is now in the Antelope Valley, Lancaster officials say their homeless services organizations receive only 2.1 percent of LAHSA total funding. It's not enough money to provide adequate services, according to Lancaster Vice Mayor Marvin Crist. He cited downtown Los Angeles which hosts 19 percent of the county's homeless population, but receives 50 percent of LAHSA funding.
"Over the past few years, LAHSA has cut our funding by 10 percent," Crist said. "Meanwhile, our region has experienced a nearly 400 percent increase in our homeless population."
Crist is citing the latest federal figures which late last year recorded a two-year jump in the county's homeless residents, which defies a national trend of a modest decline in the overall homeless population. The Department of Housing and Urban Development (HUD) said L.A. County's homeless population rose significantly from 2011 to 2013, to 57,737—second only to New York City. The number of homeless Americans has reportedly dropped six percent since 2010 to 610,042.
The LAHSA reported last year that the homeless population has risen 16 percent; high housing costs are primarily to blame, said HUD Secretary Shaun Donovan. Together, Los Angeles County and New York City comprise 20 percent of the nation's homeless population. Federal reductions in homeless assistance funds began in November 2013, including a five-percent drop in federal funds for assistance programs. Add to this less money coming from charitable organizations, higher overhead costs for county shelters and the symptoms of recession (ex. unemployment, foreclosures, reduced construction) have combined to hinder more individuals and families from securing temporary shelter and regular meals.
"We're not as far as we planned to be or as we should be," Donovan announced in January. "We are seeing more families fall into homelessness, as well as individuals who may cycle through homelessness in Los Angeles County." At the beginning of 2013, 254,000 men, women and children were on the street during the previous year in L.A. County. Presently, 82,000 Angelinos are homeless each night.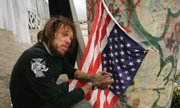 The Antelope Valley has seen cuts in its funding, just as more homeless persons are arriving to get away from the ever-rising housing costs throughout the remainder of the Los Angeles Basin.
Only the most hardy individuals seem to brave the frigid temperatures of the Antelope Valley nights. Lancaster Councilman Ron Smith fears the increase in destitute persons and the falling winter temperatures will be a recipe for disaster. "The Antelope Valley is not only neglected, but virtually ignored for social service funding," Smith said. "Make no mistake about it, this produces human tragedy. We are not a beach community. With bitter cold winter temperatures and sweltering summers, people die. LAHSA can no longer ignore the people who are in need of the most compassion and help."