Museum of African American Art a hidden treasue in South L.A.
Community staple has been open for 37 years
Mesiyah McGinnis | 2/13/2014, midnight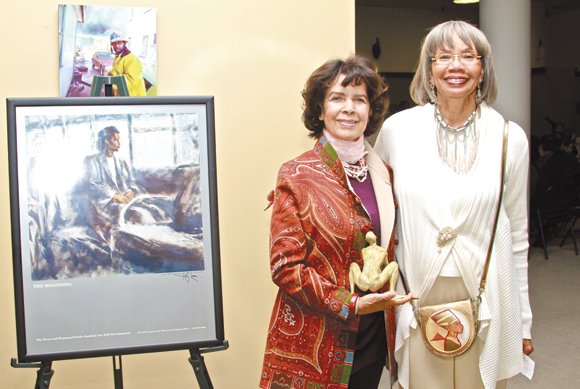 If you ask someone where the closest African American art museum is located, they would most likely mention the California African American Museum in Exposition Park. However, the Museum of African American Art (MAAA), located in Macy's at the Crenshaw-Baldwin Hills Mall, has been in that location for 37 years and counting. "We have been around for 37 years and in this building most of those 37 years. Some are too young to remember Broadway, May Company, Robinson's, Robinson's May, and now Macys," said Board President Berlinda Fontenot-Jamerson.

On the third floor of Macy's, this unique art space exhibits the work of world-renowned artists as well as emerging local artists, while keeping art experiences accessible to the public for free. The museum is a nonprofit cultural and educational institution dedicated to the interpretation, promotion, and preservation of art by or about people of African descent and their contributions to world culture.
"Its very encouraging knowing that African-based art is accessible in my local community. The Westside has the Getty Museum but significant art exists in South Los Angeles as well," said Wayne Mason, a frequent visitor of MAAA.

"MAAA is a hidden treasure in L.A. and as an artist I feel its essential that we expose our young people to the arts with a focus on visual art created by Black artists," said board member David G. Brown, an NAACP Image Award winning artist.

MAAA Vice-President of Programs, Elizabeth Betty Johnson answered a few questions:
OW: What is your goal when it comes to the museum?
EJ: My goal is to present relevant programs that promote awareness of and provides an educational opportunity on issues relevant for the arts culture.

OW: How important is community participation at MAAA?
EJ: The community is the lifeblood of MAAA. We are sustained by the generous support of our members, our volunteers, and the visitors who frequent our exhibits, attend our programs and make purchases in our gift shop.
OW: What does the future hold for MAAA?

EJ: The future is bright for MAAA. We have expanded our Board of Directors to bring new insights and resources to MAAA. Our marketing plan will specifically address MAAA's assets to increase our visibility and prominence in the community.
For more information about MAAA, please visit www.maaala.org.