Eastside-Westside: Change in circumstance; change in scenery
Blacks define Los Angeles social mobility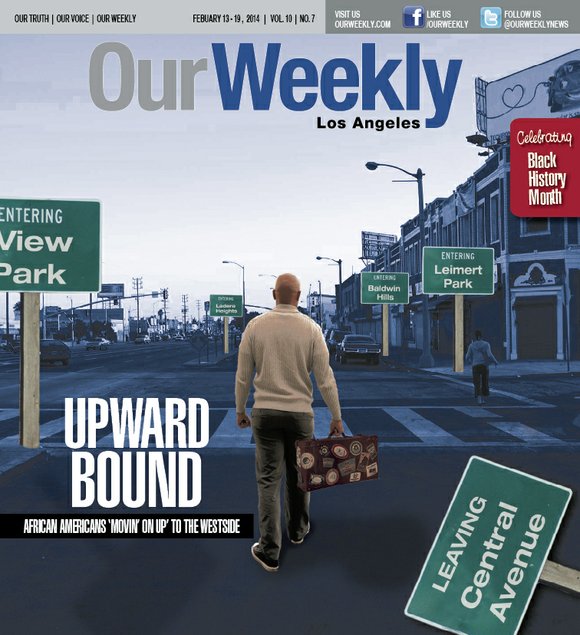 Quick and little, he darted up the steps with big news that couldn't wait: "Moma, is it true? Is it true? Are the Bennetts really moving to Baldwin Hills?" She winked and nodded yes: "That's right. James and Alice are moving to Baldwin Hills...the house is on 'Don' something or other."
"Wow! Are they rich, moma?" She looked down from slicing potatoes: "Not that I know. They've worked a long time to move up. You study hard in school—that's what you do. Then one day you can move to Baldwin Hills, too."
Shortly after World War II, a wave of southern African Americans had migrated west in search of a better life; that kitchen scenario some 50 years ago was at the height of a second, local migration just across town—roughly 10 miles from Central Avenue to La Cienega Boulevard. It wasn't the first time that Black families had moved from their original eastside enclave. Once referred to as the "Black Box" (Washington Boulevard south to Slauson Avenue, and Alameda Street west to Main Street), this was the only area in town where Black Angelinos were allowed to live prior to 1948. Restrictive housing covenants and vigilante groups made sure certain neighborhoods remained "White-only." Banks would not issue westside home loans to African Americans. Realtors, by law, were required to sell to Blacks only homes on the eastside.
Before the integration of Baldwin Hills, however, Black Angelinos had been fervently on the move. In an amazing leap for a community just a decade or so removed from the privations of Southern racism, Black families had become newly minted within the Los Angeles middle class and began to settle in Sugar Hill. That's the historic region of Los Angeles extending west from present-day North University Park (Figueroa Street and Adams Boulevard), on through West Adams and culminating amid some of the city's most stately mansions and manicured compounds.
Between the 1890s and the late 1950s, African American settlement patterns in Los Angeles underwent several distinct phases. Central Avenue was the hub for much of this period, though the Black community as a whole did reside within racially and ethnically mixed areas, often in East Los Angeles and also in Compton, despite resistance from White homeowners.
The 1940s were considered a watershed period for Central Avenue. During the war years, about 50,000 newcomers settled in and around the Avenue, with more arriving each year. Despite this jump in population, racial boundaries held firm around the community. Housing in the community felt the strain and rooms were rented out and, much like today's Latino residents, some families doubled up to make ends meet. Black families also settled in Little Tokyo which once extended east of Alameda Street and bordering Boyle Heights. These houses were once occupied by Japanese residents who were removed to the internment camps in 1942, so, with space available, up to 70,000 African Americans—an astonishing number for such a small part of town developed to house only 30,000 people—crammed into Little Tokyo during the war.