Obama pledges funds to stem state water woes; GOP protests
2/7/2014, midnight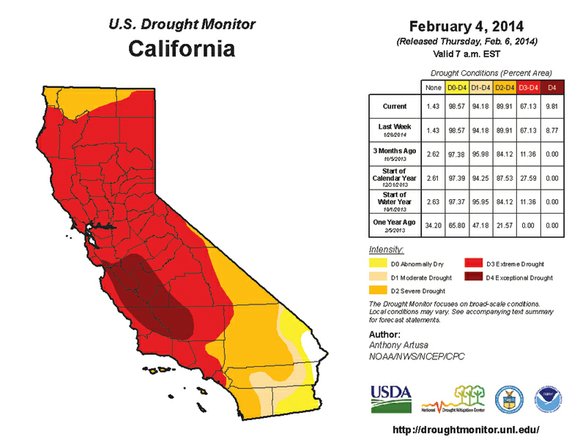 The Obama Administration this week pledged $20 million to help California farmers cope with the worst drought the state has seen in almost three decades. The U.S. Department of Agriculture (USDA) said the money would be available for new water-conservation efforts that will primarily assist the Central Valley in maintaining necessary water levels which are vital in providing the nation and much of the Western Hemisphere with a regular selection of meat, produce and dairy products without a price increase.
"We are doing everything within our power to support those farmers and ranchers affected by this intense drought," said USDA Secretary Tom Vilsack. "These funds will help get a suite of scientifically proven conservation techniques on the ground and help producers."
February is normally the wettest month for California, but the unusually dry winter has led the state to cancel water deliveries from the State Water Project. Therefore, the funds will be available statewide for projects such as upgrading irrigation systems and existing groundwater supplies, as well as protecting rangeland and planting cover crops. Also, the money will be divided into two pools: cropland and grazing lands. Cropland where water allocations have been reduced to 85 percent or lower will get top priority.
Like most issues affecting commerce, news of California's water woes have reached the halls of Congress. This week, Gov. Jerry Brown harshly criticized an effort by Congressional Republicans to roll back environmental rules limiting how much water agencies can pump out of the now-delicate San Joaquin-Sacramento River delta in dry years. The emergency legislation, heralded last week by House Speaker John Boehner as a remedy for "failed government policies," would allow state and federal water managers to send water to farms and communities in the state's parched areas in summer 2015 when, supposedly, the impact of the drought will hit hardest.
Last week, Congressman Kevin McCarthy, representing the 23rd District bordering Rosamond, was among the entire California GOP delegation which introduced the legislation to resolve the water crisis. "The current California drought is a crisis exacerbated by the failure of government to recognize the damage it can cause when it gets in between our country's farmers and a critical resource needed to supply food to our nation and economic growth in the Central Valley," McCarthy said. "The government has decided that rather than follow a law on the books since 1994 that secures adequate water to the Central Valley, protecting fish is more important." McCarthy is referring to the endangered, three-inch Delta smelt.
Brown said the legislation would roll back pumping restrictions in effect for two decades that required officials to maintain a certain amount of water flowing through the delta to protect fish. The restrictions have eased a little during the wet years, but since 2011 little pumping has taken place. Barring a deluge that weather forecasters do not predict anytime soon, no pumping should be expected this year.
Brown this week wrote to the Natural Resources committee and said the GOP proposal was "unwelcome" and "intrusive," noting that the plan would undermine years of progress in the state's water and environmental management efforts.
"It would override state laws and protections, and mandate that certain water interests come out ahead of others," Brown wrote. "It falsely suggests the promise of water relief when that is simply not possible given the scarcity of water supplies."
This week, managers of a federally run project that sends water from the delta to the San Joaquin Valley and elsewhere announced that water supplies will be at a minimum next summer because of environmental rules that restrict pumping if water levels become too low.