Black population in L.A. County declines as more return to South
Inland Empire attracting more families
2/7/2014, midnight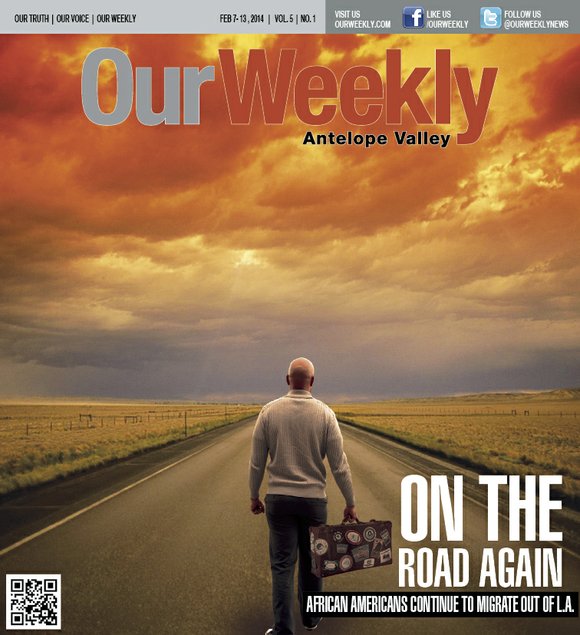 Last year, a report from the United States Department of Justice (DOJ) investigated alleged abuse and civil rights violations by law enforcement in the Antelope Valley, but also found that city officials and longtime residents would prefer that some areas such as East Palmdale not be transformed into a "dump yard" for poor minorities from Los Angeles. The report found that it was primarily an economic issue because Black families found it was cheaper to live in the Antelope Valley, but the economic downturn has made it more difficult to make ends meet. In short, Black, Latino and some White families in the Antelope Valley have had to compete within the same shrinking economic "pie" and that circumstance may have exacerbated already fragile race relations.
In the 1990s, demographics began to change in the Antelope Valley when lower real estate prices began to attract families from other parts of Los Angeles County. The 2010 Census saw Lancaster grow from 97,291 persons in 1990 to 156,633. The proportion of White families has fallen during this period from 79 percent to 49.6 percent. But during this time, the Black population in the Antelope Valley tripled from 7.4 percent to 20.5 percent; the Latino population also grew considerably from 15 percent in 1990 to 38 percent today.
Palmdale's population has grown in 20 years from 68,917 to 152,750, with the percentage of White households falling from 76 percent to 49 percent. The proportion of Blacks in Palmdale has more than doubled from 6.4 percent to 14.8 percent; the Latino population grew from 22 percent to 54.4 percent.
From 2000-2008, the number of Black Section 8 holders grew in Lancaster from 510 to 1,530; in Palmdale during that period participants rose from 455 to 825. In 2010, 73 percent of voucher holders in this portion of the county were in Lancaster, and 69 percent resided in Palmdale. By 2010, 37 percent of vouchers issued by the Housing Authority of the County of Los Angeles were issued to mostly Black residents of the Antelope Valley. Some 40 percent of persons on the Section 8 waiting list are African American.
The 2010 Census as well as the Urban League report found that an increasing number of Black families are moving from Los Angeles to the Inland Empire and other middle-class areas such as Rancho Cucamonga and as far away as Bakersfield, Fontana, Chino and Rialto. Sixty years ago, most Blacks moving from the south to the west coast would have avoided these rural areas in search of "city life," but with the inner city becoming more crowded and resources dwindling, these outlying areas have become the latest destination points for African Americans. The continued weak economy has affected Black migration into the Inland Empire which used to be a magnet for more affordable single-family homes; the 2008 housing crash saw construction there fall by more than 50 percent, meaning the loss of 70,000 jobs.
Now with 4.1 million residents, the Inland Empire is the 14th largest metropolitan area in the United States as well as being the fastest growing area in California. Between 2000 and 2008, the Inland Empire population expanded by 861,000 (26 percent). However, some cities in the Inland Empire have seen their Black population drop. Blacks comprised 22.3 percent of Rialto's population in 2000, and that share today has declined to 17.3 percent. This decline in Rialto and San Barnardino has resulted in a larger percentage of African Americans moving to Rancho Cucamonga and as far north as Victorville.