African American news for the week of Dec. 18, 2014.
Compiled by Carol Ozemhoya. | 12/18/2014, midnight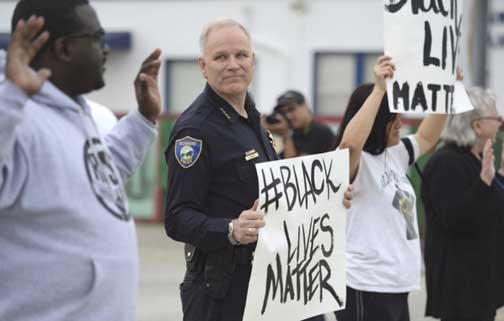 Alabama
An Auburn University student who was also on the football team was murdered last Sunday morning. Jakell Lenard Mitchell, 18, died from gunshot wounds to the chest. Police have arrested 22-year-old Markale Deandra Hart of nearby Camp Hill and charged him with murder. The shooting took place outside the Tiger Lodge apartment complex, where many Auburn students live. It is just a few miles from the Auburn campus. "My thoughts and prayers are with Jakell's family and friends, who are suffering through this senseless tragedy," said Auburn Coach Gus Malzahn, who added that he was saddened and devastated over Mitchell's passing. This is not the first time this particular apartment complex has been the scene of a tragic shooting. In the summer of 2012, Desmonte Leonard shot and killed three people at a party there. He was convicted of capital murder for killing former Auburn players Ladarious Phillips and Ed Christian, as well as DeMario Pitts. Leonard's sentencing is scheduled for Jan. 20.
California
A White police officer has made a statement that has gotten him in trouble with his police union. Chris Magnus, chief of police of the Richmond Police Dept., joined peaceful demonstrators last week. He was in uniform and holding a sign that said, "#BlackLivesMatter." The Richmond Police Officers Association objected to the move by Magnus, not based on his stance, but on the fact that he was wearing his uniform. The association claimed that the state government's code prohibits police officers from participating in political activity while in uniform, according to mediaite.com. Magnus responded on Facebook by saying, "When did it become a political act to acknowledge that 'black lives matter' and show respect for the very real concerns of our minority communities? This should not be about 'us versus them.' It should be about finding ways to build bridges and address the schism that exists between many of our residents and police."
District of Columbia
Congressional staff members staged a walkout last week to protest the decisions by grand juries in Ferguson, Mo., and in New York City not to indict police officers that killed unarmed Black men. Dozens, possibly hundreds, of Senate aides and workers showed solidarity with demonstrators across the U.S. who were protesting the decisions. They stood on the Capitol steps with their hands in the "hands up, don't shoot" posture that demonstrators around the country are using to protest. "We're coming out here to let them know, no, it's not business as usual; our lives matter. We're asserting our humanity and our dignity," a congressional staffer told The Huffington Post. "Even though we go to work in these prestigious buildings among prestigious people, we go home and we're still profiled, we still are part of those statistics. It could have been any one of us who was Eric Garner, who was Mike Brown." In addition to the congressional aides taking part in the protest, Rep. Joaquin Castro, a Democrat representing Texas, took part as well. In addition, the protestors represented more than just African Americans, as Hispanic Americans and Asian Americans also participated.