Exposition Park
From dinosaurs to space shuttle: a walk through time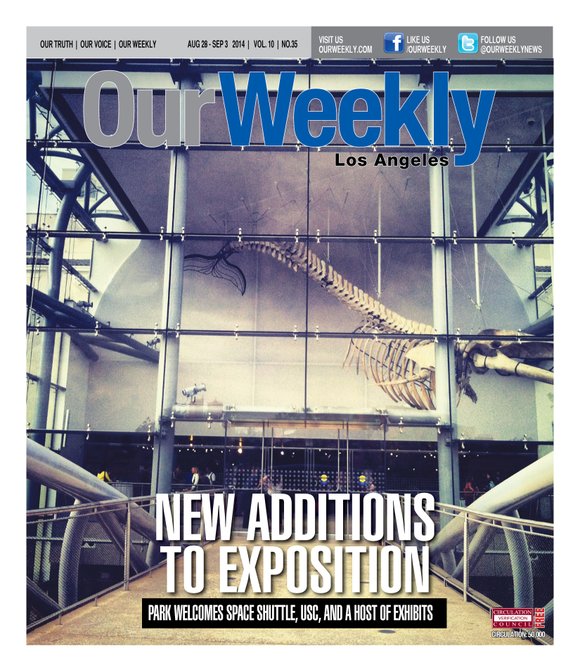 Exposition Park has for 100 years been a destination point for millions of Angelenos and visitors to Los Angeles. Whether you're a sports fan, music fan, history bug, sci-fi enthusiast or even a naturalist, Exposition Park likely offers something of interest to all visitors.
The popular attractions at Exposition Park include the California African American Museum, California Science Center, Los Angeles Memorial Coliseum, Los Angeles Memorial Sports Arena, Exposition Park Rose Garden, EXPO Center, Natural History Museum of Los Angeles County, Science Center School and Amgen Center for Science Learning, and Jesse A. Brewer Jr. Park. Exposition Park is continuing a renovation plan begun in the mid-1990s to rival Central Park in New York City, Grand Park in Chicago and, to an extent, Griffith Park locally.
Samuel Oschin Pavilion
Construction is continuing at the new Samuel Oschin Pavilion which in 2018 will permanently house the Space Shuttle Endeavour in its vertical launch position. The shuttle exhibit is open to the public at the California Science Center. The Endeavour has made the longest commuter trip in the history of Los Angeles County—about 123 million miles—from its birthplace in Downey, to assembly and landings at Edwards Air Force Base in Palmdale, and culminating at Exposition Park. In between, of course, it flew 25 missions at roughly 250 miles above the Earth. Visitors begin their tour in "Endeavor: The California Story" which is a companion exhibit featuring images and artifacts that relate to the shuttle program in Southern California where the orbiters were designed and built.
California African American Museum
Upcoming art exhibitions include "Curatorial Selections" through Sept. 7, and "Curvative: Lines and Shapes" on display through Nov. 2. "Visibly Invisible" will open on Aug. 29, and "Lookin' Back in Front of Me: Selected Works of Mark Steven Greenfield" will open for display on Sept. 25. Designed by African American architects Jack Haywood and the late Vince Proby, the museum has operated for 28 years under a charter by the State of California. Encompassing 44,000 square feet, the museum includes three full-size exhibition galleries, a theater gallery, a 14,000-square-foot glass ceiling courtyard, a conference center/multi-purpose room and a research library.
Jesse A. Brewer Jr. Park
Once serving as a parking lot primarily for football fans, Jesse A. Brewer Jr. Park is a tribute to one of the highest raking African Americans in the history of the Los Angeles Police Department. The four-acre park offers barbecue pits, picnic areas, a picturesque white gazebo and an array of children's playground equipment. Brewer served 39 years with the LAPD and retired as assistant chief. He died in 1995.
Natural History Museum
The Natural History Museum has always been a favorite stop for visitors. The museum completed one year ago a $135 million redesign which more than doubled its exhibition space, including the Mammals Hall which opened in 2010 and the compelling Dinosaur Hall in 2011. The new entrance is six stories high and features a hanging skeleton of a 63-foot fin whale silhouetted by 33,000 LED lights. Outside, a 3.5-acre "urban wilderness," designed by Mia Lehrer & Architects, replaced a concrete parking lot. Today there are some 31,000 plantings and a 27,000-gallon pond to lure in dragon flies, hummingbirds, butterflies, etc. The new Dinosaur Hall is one of the finest exhibits on the West Coast. In addition to "Thomas the T-Rex," the newly renovated hall features more than 300 real fossils and 20 complete skeletons of dinosaurs and sea creatures. The 68-foot Mamenchisaurus (a plant-eating sauropod from the late Jurassic period) is longer than a city bus. The hall also offers multi-media stations where visitors can "excavate" specimens and watch never-before-seen footage of a dinosaur-hunting expedition.