BLVD Cinema to screen MANA at close of Spirit of Summer Exhibit
Film produced by MOAH curator, Andi Campognone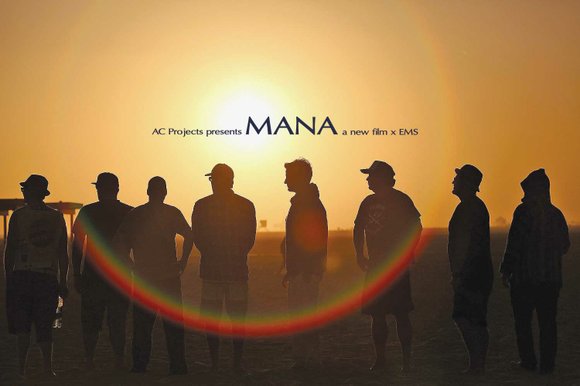 On Sunday, August 31, The Lancaster Museum of Art and History (MOAH) and BLVD Cinemas will once again collaborate as they screen MANA, a documentary on southern California artists who share the skill and affinity of surfing. The film showcases 10 southern California artists who are concurrently being featured in MOAH's South Gallery as part of the Celebrating the Spirit of Summer Exhibit. Filmed in Kona, Hawaii and southern California, MANA takes viewers on a ride through 10 different artists' styles, studios and processes, united in vision and driven by family, friendship, stoke, aloha and MANA: the universal power of the land and sea.
Produced by MOAH's manager Andi Campognone, together with artist Alex Couwenberg and celebrated cinematographers Marcel Morin and Sarah Mueller, the documentary film was created by Los Angeles-based photographer and filmmaker Eric Minh Swenson, known for documenting the art and culture of southern California. He has produced more than 400 documentaries on artists and exhibits, focusing on the artist's process, concept and craft while finding the humor and essence of his subjects.
"The 10 artists featured in the film each approach their work differently in their own process, mediums and styles, yet they all embrace a reverence for the power, beauty and complexity of the ocean," said Campognone.
The artists are additionally unified by their strong community and family connections, each with a commitment to younger generations through art and surfing. The artists' work is on display at MOAH through Sunday, Aug. 31.
MANA debuted at the Kona Film Festival, in Hawaii where it was filmed. After its California premier at the BLVD Cinemas in Lancaster, it was featured at the Honolulu Museum of Art Summer Film Festival. Now, it is returning to the BLVD Cinemas for the closing of MOAH's summer exhibition.
The film MANA will screen four times on Sunday: 11 a.m., 1:30 p.m., 4 p.m. and 6 p.m. Tickets are $8 and available at the BLVD Cinemas, located at 742 W. Lancaster BLVD. MOAH is located at 665 W. Lancaster BLVD. For more information about MOAH, visit the website, www.lancastermoah.org.