Angelenos Demand Drone-Free LAPD
Press Conference announcing the launch of the Drone-Free LAPD/No Drones, LA! Campaign
8/20/2014, 10:25 a.m.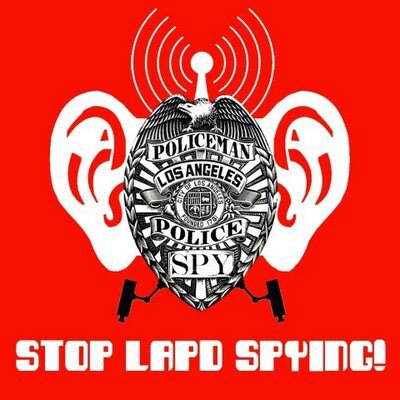 When: 10 AM, Thursday August 21, 2014
Where: Los Angeles City Hall - South Steps facing 1st Street (across from LAPD Headquarters)
​Visuals: Banners, Signs, Theater
On Thursday, August 21, communities from across Los Angeles will be gathering at the Los Angeles City Hall to demand a prohibition on the use of drone technology by the Los Angeles Police Department. On August 12, the Drone-Free LAPD/No Drones, LA! Campaign sent a letter to Los Angeles Mayor Eric Garcetti requesting an urgent meeting with the Mayor stating, "As residents of Los Angeles, we reject the recent acquirement of drones by LAPD. We believe the acquisition of drones signify a giant step forward in the militarization of local law enforcement that is normalizing continued surveillance and violations of human rights of our communities."
In May, 2014 the Los Angeles Police Department announced it had acquired 2 DraganFlyer X6 Drones as "gifts" from the Seattle Police Department. On June 19, 2014 the LA Weekly reported, "It had been almost a year since the two 3.5-pound Draganflyer X6 drones caused a huge public uproar in Seattle over privacy rights and police snooping, forcing the mayor to permanently ground the mini spy drones before they took their first official flights. They'd been sitting on a shelf ever since the Canadian manufacturer refused to take them back. Now LAPD has taken possession of these drones and promises to hold public hearings — after the fact." [emphasis added].
Angelenos' deep concern and rejection of the proposed use of drones by LAPD arises from the addition of this technology to the massive arsenal of tactical weapons and surveillance equipment signifying LAPD as a model of a highly militarized police agency, with an extensive history of community distrust, various examples of "mission creep," violence, brutality, a blatant disregard for privacy rights, and high potential for false identification.


"As a student of science, I am deeply concerned with current LAPD surveillance programs targeting non-criminal behavior and the implication that my creativity or innovation may be infiltrated, manipulated, stolen, or worse- never given the chance to be actualized," said Natalie Packard, a third year geology student at California State University Northridge and a member of the Drone-Free LAPD, No Drones, LA! Campaign.
The Drone-Free LAPD/No Drones, LA! Campaign is comprised of a cross section of concerned individuals, including human and civil rights, privacy rights, faith-based, and community-based organizations.