Youth Sports & Healthy Families Festival returns for a sixth year
Free event will feature a host of new activities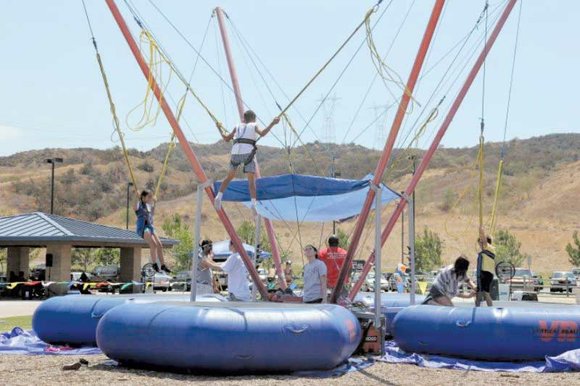 Santa Clarita's annual Youth Sports and Healthy Families Festival is back and better than ever in 2014. The free, action-packed event will feature sports activities, interactive lessons, healthy food demonstrations and more from 10 a.m. to 5 p.m. on Saturday, August 23 at the Santa Clarita Sports Complex.
The sixth annual festival will transform the Santa Clarita Sports Complex into the biggest playground in the city and is designed to offer local kids the opportunity to try out a new sport or activity, and to provide local families with simple tips and information on how to live healthier, more active lives.
"The Youth Sports and Healthy Families Festival is one of the city's most popular family events and draws thousands of attendees each year," said Mayor Laurene Weste. "This year, we've extended the festival by two full hours, allowing local residents more time to sample some of Santa Clarita's top youth sports activities, learn healthy eating tips and have fun while doing so."
The festival will be divided into several activity zones, offering more than 20 recreational games and activities. Options will range from classic sports like basketball, soccer, tennis, volleyball, cheerleading and dance, to nontraditional activities like archery, SNAG golf, snorkeling, and Futsal, also known as indoor soccer.
Several new activities will make an appearance at this year's event, including fencing, Innertube Water Polo, an expanded tricycle race course for kids and adults, and much more. The Lancaster JetHawks will return with their Home Run Derby activity, and team mascot KaBoom will cheer kids on and pose for photos.
A Play Every Day! area at the festival will featureactivities like hop scotch, tetherball, jump rope and hula hoop to inspire families to get active on a daily basis. Rock climbing, boxing and a quad bungee trampoline will also be available for those seeking something a little more extreme. Kids and adults can also play games with the futuristic, interactive XerPro sports wall.
The festival will also include a series of high-energy demonstrations from local groups, including Hoop Dance, Waller's Gym, Gym Cheer, TK Tae Kwon Do, Hawaiian Dance, Star Dance, and Shin's Family Martial Arts Center. Demonstrations will also be held for some of the city's most popular programs, including boxing and Futsal.
Throughout the festival, attendees will be able to enter into a raffle for the chance to win prizes including amusement park tickets, restaurant gift cards and professional sports memorabilia. All raffle proceeds will benefit the city's SCORE program, which provides recreation scholarships for youth.
The Healthy Families Experience, presented by Kaiser Permanente, will show families how to make healthier food choices to fuel an active lifestyle. An Explore the Store! area sponsored by Whole Foods will welcome attendees to browse fresh fruit and veggies and participate in a Create Your Plate activity to design free, healthy snacks. A new Healthy Families Grows experience will feature a healthy, organic planting activity to show families how to cultivate their own fresh produce at home.
The Healthy Families Experience will also include a variety of activities for younger kids sponsored by My Gym, including face painting, running, jumping, hopping, skipping, throwing, kicking and catching games, as well as arts and crafts.
For more information about the 2014 Youth Sports and Healthy Families Festival, visit santa-clarita.com/youthsportsfestival or call the city's Youth Sports Office at (661) 250-3756. Volunteer opportunities are also available at the event. Residents interested in volunteering may call call (661) 250-3708 or visit SantaClaritaVolunteers.com to sign up.