Local funding, Common Core among latest strategies for secondary schools
Minority enrollment is new 'majority'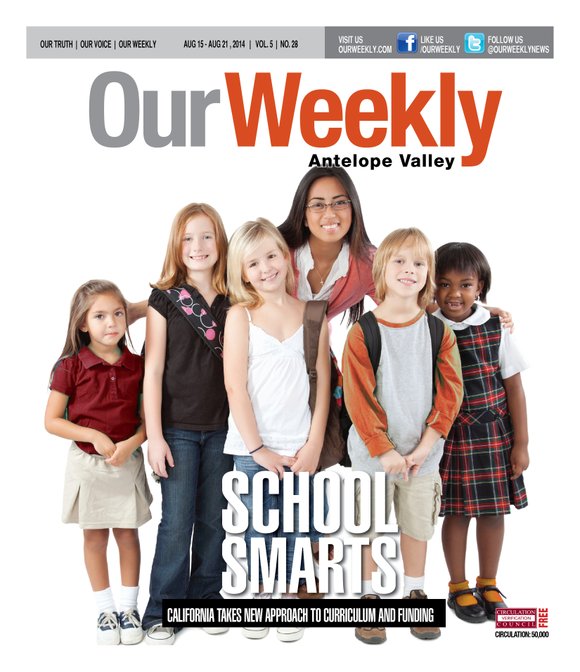 Although Labor Day has traditionally marked the end of summer, students in the Palmdale School District headed back to class this week. Long gone are the days of the three-month vacation, and many public school campuses have opened this week for the new year.
There are many changes taking place statewide among school districts. Leading the discussion among educators is the Local Control Funding Formula (LCFF) which enters its second year and is designed to give schools more flexibility in designing programs to improve student performance, especially for three groups of students categorized as "high needs." These are pupils identified by the State Board of Education as those living in poverty, English language learners and foster children. These three groups constitute some 63 percent of California's 6.2 million public school pupils.
California has for more than 40 years relied on a system that included general purpose funding ("revenue limits") and dozens of categorical programs to provide funding to school districts. The LCFF is an attempt to better streamline school district funding.
The new funding system is designed to tie accountability (not simply spending) to student performance, and now requires districts to identify how finances can improve student outcomes. Under LCFF guidelines, school dollars are divided into three broad tiers: (1) Base grant. California's 950 school districts will receive the same basic allotments per student, depending on grade level; (2) Supplemental grant. Districts with "high-need" student groups will receive supplemental grants equal to 20 percent of each student's base grant. All districts are eligible for these grants, and (3) Concentration grants. Districts, where high-need students exceed 55 percent of enrollment will receive a grant equal to 50 percent of each student's base grant. Last year, 565 districts were eligible for these grants.
The California Department of Education defines "high-need" students as those who may lag behind on performance measures such as graduation rates, standardized test scores, attendance, preparation for four-year colleges and participation in advance placement classes.
More autonomy for school districts
Full financing for LCFF will be phased in over the next eight years, according to the state Department of Finance, with apportionment this year based on data collected from fall 2013 through spring 2014. Last year, California schools received $42 billion from Sacramento under the LCFF and in 2014 the amount is expected to surpass $47 billion. California's fiscal budget for 2014-15 includes an additional $5.6 billion for K-12 education from Prop. 98. Basically, California wants to give school districts with the largest number of needy students more money and more autonomy over spending in an effort to reduce inequities and to heighten achievement. The funding system was designed to be community driven, meaning that regular meetings will be conducted with parents/guardians and other groups representing high-need students. State regulators require the inclusion of parents/guardians of high need pupils in the planning/implementation of LCFF; individual districts don't have to establish new parent advisory groups provided that the district has formed groups that satisfy the new requirements.
However, the new LCFF guidelines may invariably be interpreted differently, which is when various Local Control Accountability Plans (LCA) play a role. These LCAs are mandatory for each school district and demonstrate to the Department of Education how they intend to meet annual academic goals for pupils, with specific activities to address state and local priorities. The American Civil Liberties Union (ACLU) found one common denominator resonating throughout all LCAs, and that is the idea of starting with needs assessments of the individual student.