Behind Robin Williams' genius was the great comic Jonathan Winters
By Michael Martinez | 8/15/2014, midnight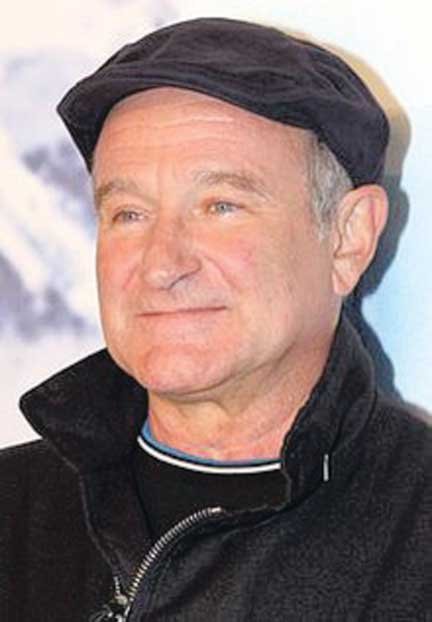 Before Robin Williams, there was Jonathan Winters. Winters begat Williams, if only in comedic spirit.
To understand the genius of Williams, an audience must look to Winters. They were kindred clowns, and even as you read their names now, you wonder what jokes each comic would have conjured up seeing their surnames side by side—W with W.
Winters was the original master of funny characters created out of the thin air of a stage, Williams once pronounced. Winters could invent them with nothing more than a stick as a prop.
Winters became a deity to Williams. In fact, he was the "Comedy Buddha," as the protégé put it.
"Jonathan Winters is the reason I became a comedian," Williams declared.
Indeed, Winters' influence began in Williams' childhood, when he saw how his father belly-laughed at Winters on television.
A rush of insight overwhelmed the boy named Robin: The way to his stern father's heart was through imitating Winters.
That's how Robin Williams the prodigy was born.
"My dad was a sweet man, but not an easy laugh," Williams wrote in The New York Times in an homage to Winters shortly after his death in 2013 at age 87. "My father's laughter introduced me to the comedy of Jonathan Winters."
The father and son were watching Jack Paar on "The Tonight Show" when Winters appeared as a guest, wearing a pith helmet, Williams recounted in the Times.
"Who are you?" Paar asked.
"I'm a great White hunter," Winters said in an effete voice. "I hunt mainly squirrels."
"How do you do that?"
"I aim for their little nuts."
Williams repeated this tale often. The moment put him on the path to become one of America's funniest and most prolific artists, until this week when he ended his life at age 63.
The epiphany of his life came in boyhood, while in front of a television screen, he said.
"My dad and I lost it. Seeing my father laugh like that made me think, 'Who is this guy and what's he on?'" Williams wrote in 2013.
The symbiosis lasted throughout Williams' career, except Williams was a far more hyperactive comic. Pity the co-star with whom he shared a stage. There was no way to stop Williams when he was on a roll.
Winters, in contrast, enjoyed a pause. He evoked an era before technology decimated our attention spans.
What the two masters shared was an irrepressible mischief, delivering joke upon joke with originality and freshness that left audiences wondering, how do they do it?
"Once upon a time, I called Jonathan my mentor and he immediately corrected me and said, 'Please,' he told me, 'I prefer idol,' " Williams said, drawing laughter from an audience gathered for the 2008 TV Land Awards.
Williams presented the Pioneer Award to Winters at that event.
"Jonathan Winters is my idol, and he is a true pioneer," Williams added in a rare moment of seriousness.
It wasn't the first time the mentor and the protégé shared a telecast.