Teen tech teams vie for seed funding
10 teams compete in Demo Day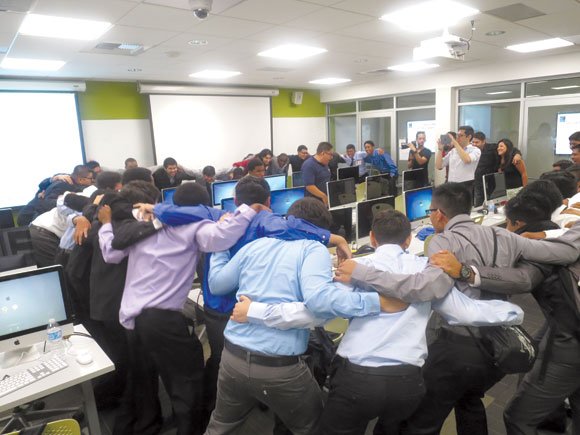 The excitement was palpable. As each of the shirt-and-tie clad young men walked up to the front of the Frank Salvatori Auditorium at USC to start their presentation, it was obvious that what they were doing was vitally important not only to them, but to the more than 100 family and friends who crowded into to the event to support and cheer them on. In fact, one mom called out "that's my baby," when her son's team was introduced eliciting laughter and a smattering of applause.
The young men, African America and Latino teens ages 13 to 18 years old and most residents of South Los Angeles, were presenting the culmination project of a 15-week summer computer coding academy operated by the program Teens Exploring Technology (TxT). The academy enabled them to create a solution to problems they had encountered in their community.
The participants presented these solutions in the form of potential businesses and the 10 teams that the young men were part of competed against one another to present their technology solutions to a panel of experts in an effort to potentially win funding to launch their business.
Each team was given five minutes to present their solution and two minutes to answer questions from the judges—Una Fox, vice president of enterprise data management at Disney; Kevin Hossman, director of user experience at Rosetta; angel investor Brian Stuart; Sam Brotherton, software engineer at Google; and Kevin Winston, CEO of Los Angeles-based Digital LA.
The student companies ranged from Schoolverce, an application/social media platform focused on increasing the number of high schoolers who attend school events, to a website called Teenployment designed to help young people with no work experience find and apply for jobs in their local area. It also offers tips for interviews, resumes, and cover letters.
The top team would win $2,000 in seed money to help launch their company, a year of mentoring as well as an opportunity to visit three tech firms in Silicon Valley.
That winning team turned out to be BOND, an app created by the team called Incognito.
"We thought BOND was a great idea," explained judge Winston. "They did their research and the visual presentation was great. Now they've just got to build it out."
BOND is designed to help 14-17 years olds find places to go on dates. The team consisted of Diego Arrenquin, Kevin Herrera and Layquawn Windley all 15, and 16-year-old Jonathan Cassaola.
"We really have bonded," remarked Windley. "But the first couple of weeks we were really behind; we weren't communicating and were struggling a lot." But that changed the longer the teens worked at their goal, added Windley.
"I was so excited, but I didn't expect to win," said Arrenquin, after the announcement was made.
Herrera too said he found himself very nervous as the judges announced the third place winner (Groupiee) and then second place, Sumato.
Windley and Cassaola are each looking forward to the next step of expanding their app and building the brand including adding an artificial intelligence component.