AV YouthBuild latest grant guides young people to success
Reviving vocational education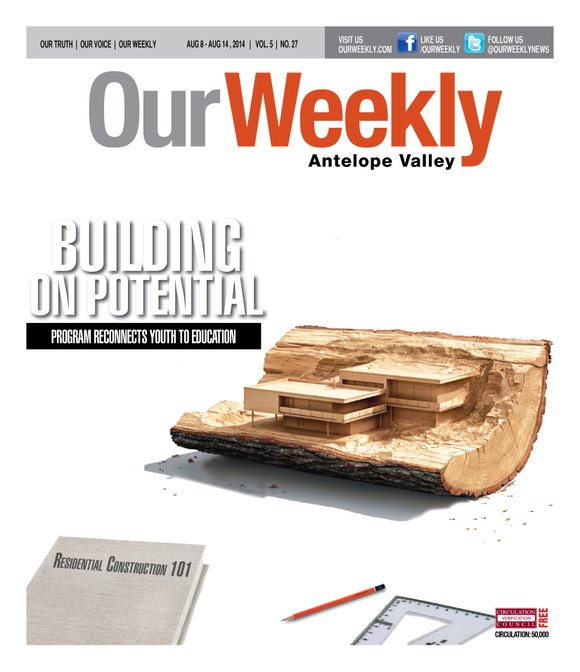 Antelope Valley YouthBuild, a Palmdale-based leadership development program that offers vocational training and helps 16 to 24 year olds earn their high school diploma, received a grant of $6,500 from SunPower Foundation this month. The foundation is the not-for-profit arm of SunPower Corp., a world leader in solar technology and energy services.
Antelope Valley YouthBuild was one of 10 not-for-profit organizations recognized for its work in renewable energy, education or the environment as part of a semi-annual grant program offered by the SunPower Foundation. The money will be used by AV YouthBuild to provide education, career development services, and leadership opportunities to young people in the Antelope Valley.
"It's an honor to receive this grant from the SunPower Foundation," said Rossie Johnson, executive director of Antelope Valley YouthBuild. "We are looking forward to furthering the education and leadership skills of 'at-potential' youth with this grant."
The SunPower Foundation selected grant recipients for 2014 based on a standard set of criteria including the organization's 501(c)(3) status, mission, vision and planned use of funds.
"Through the SunPower Foundation, our company is pleased to support renewable energy, education and environmental initiatives in communities around the world," said Doug Richards, SunPower Foundation chairman. "These investments are sure to have a long-lasting impact thanks to the work of groups including Antelope Valley YouthBuild."
AV YouthBuild began operations with 12 students in 2007, and in 2012 received $800,000 from the U.S. Department of Labor to launch the SMART (Start Making A Real Transformation) program for youth in the community. That grant helped the organization to offer additional support services such as counseling and job development, as well as a stipend for 36 students. That year AV YouthBuild received an additional $1.1 million from the Labor Department to help implement programs in construction, nursing and solar technology. There are more than 300 young people studying with AV YouthBuild today; a number of them have learned construction techniques and are building housing for program students at 5th Street East and Avenue Q3 in Palmdale. A community training center will lie adjacent to the living quarters to serve community members who wish to gain job training and life skills.
"We're very pleased to receive this grant from SunPower and will use the funds to further our outreach to youth," said Meia Johnson, director of operations with Antelope Valley YouthBuild. "The support of the community is critical to our continuing service to young people. The city of Palmdale is probably our biggest champion; they've provided many resources and have provided our kids with a number of community service opportunities. We'd also like to thank (retiring) Rep. Howard "Buck" McKeon for his support and guidance in helping to make Antelope Valley YouthBuild a vibrant success."
Over the past seven years, more than 1,000 young people have graduated from the program, have received their high diplomas and many are working full-time in jobs they trained for. This year, AV YouthBuild has seen at least 60 young people complete the program, having earned certification for work in the various professions taught.