National Night Out unites communities against crime
Avery Jordan | 8/7/2014, 12:48 p.m.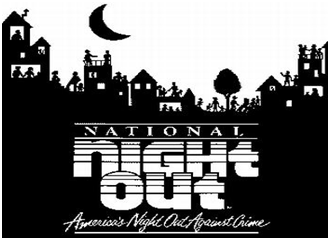 The National Association of Town Watch (NATW) celebrated its 31st National Night Out (NNO), which has gained worldwide support since its inception in 1984. In 2013 NNO involved 16,242 communities including over 37.8 million people from all 50 U.S. states, U.S. territories, Canada, and military bases all around the world, and this year the numbers were expected to increase dramatically.
NNO is a yearlong community-building campaign that was designed to do heighten crime prevention awareness and generate support for, and participation in, local organizations and programs that oppose crime. NNO also aims to strengthen neighborhood spirit as well as police-community relationships and partnerships. Moreover, NNO aims to send a message to criminals to let them know that neighborhoods will not sit idly by and allow crime to run rampant; these neighborhoods want criminals to know that they are organized and they are willing to fight back against crime and protect their community, and there was no shortage of support here in the Southland area. Southern California cities such as Los Angeles, Burbank, Lynwood, Gardena, Beverly Hills, Manhattan Beach, and Long Beach (just to name a few) took part in NNO on Tuesday night.
NNO registration is free and open year-round for any community group, neighborhood, law enforcement agency, or crime prevention organization that wants to participate in spreading its message of positivity. Neighborhoods typically participate in the event with traditional front porch vigils, but they also organize citywide as well as neighborhood events such as block parties, cookouts, parades, youth events, and festivals to help promote anticrime mentality in their areas. These community events are typically accompanied by food, police and fire department displays, live entertainment, and resource and information booths.
During the NNO, the NATW makes a point of providing local community leaders and coordinators with organizational kits. These kits are complete with "how to" materials, including planning suggestions and guidelines, in regards to what community members can do to prevent crime with their own families as well as together with other community members.
National Project Coordinator Matt Peskin stated, "This is a night for America to stand together and promote awareness, safety, and neighborhood unity. NNO showcases the vital importance of police-community partnerships and citizen involvement in our fight for a safer nation." The NNO program seems to show no signs of losing momentum, and its message is being received loud and clear not only in the United States, but in other communities around the world as well. This may have originated as a national concept, but it is now reaching much further than that. Natalia Media, a block watch coordinator in the city of Lynwood, stated, "Throughout this event, neighborhood block watch captains also have the opportunity to recruit new members to join the organization in hopes of making more of our neighborhoods safer."
For more information on the NATW and NNO, visit the NNO official website www.nationalnightout.org or contact Matt Peskin's office at (610) 649-7055.