Michael Grant receives lifetime achievement award
Minority Business Development Agency hosts awards luncheon
Trice Edney News Wire | 8/7/2014, midnight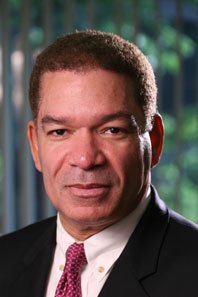 The winner of the U.S. Minority Business Development Agency's (MBDA) Lifetime Achievement Award says the economic fate of America's Black community "hangs in the balance" because "we are a fourth quarter people."
Michael Grant, president of the National Bankers Association and its foundation, says, "Unlike our Hispanic and Asian brothers and sisters, we had to spend the first three quarters just getting in the game...So you see, all things being equal, our ethnic counterparts came to the game with a different mindset, a different set of circumstances, a different self-image, and already with some capital from back home."
Grant was speaking during a joint press conference with the U.S. Black Chambers, Inc. two weeks after being notified he would receive the Minority Enterprise Development (MED) Abe Venable Legacy Lifetime Achievement Award Aug. 1.
The annual award is meant for a person who has exhibited "high standards of excellence, dedication and accomplishments over a lifetime," said MBDA National Director Alejandra Y. Castillo, preparing to present the award. "This award is granted to two individuals who have played an integral role in the creativity and professional progress of minority business development over the course of their lives."
The late Henry T. "Hank" Wilfong Jr., was also honored with the Legacy Award. He was founder of the National Association of Small Disadvantaged Businesses (NASDB), among a string of pioneering accomplishments that included service to presidents, governors and mayors. It was accepted by his widow, Wyllene Watson-Wilfong, who now runs the NASDB. Castillo said Wilfong was a "voice and trumpeter" for minority business development and stability.
For decades Grant has advocated for Black economic participation, growth and sustainability. In his remarks upon receiving the award, he credited strategic partnerships for his successes. His activities over the past year alone include a partnership with the U. S. Black Chambers Inc. (USBC) and the Congressional Black Caucus Foundation to encourage Black organizations to make their deposits in Black-owned banks.
Speaking at the press conference, Grant also joined with Ron Busby, president of USBC, to call for Black businesses and consumers to "choose to work and do business as a team" by supporting each other. He described how the African American community has struggle to attain economic parity only to be surpassed by other ethnic groups. He illustrated this by outlining the annual budgets of the three national chambers and the gross annual receipts of the businesses that they represent. According to Grant:
The Hispanic chamber has an annual budget of $22 million. The average gross annual receipts of Hispanic businesses is $155,000.
The Asian chamber has an annual budget of $11 million. The average gross annual receipts of Asian businesses is $327,000.
The African American chamber has an annual budget of $900,000. The average gross annual receipts of African American businesses is $71,000. And Black-owned businesses received only 1.7 percent of the guaranteed loans from the Small Business Administration last year.
Grant stressed that he did not cite the numbers to create "resentment and animosity" between the groups. He said, in the "fourth quarter" Blacks must break free of the past and strategize to take their place in America's economic mainstream.