American woman infected with Ebola arrives in U.S.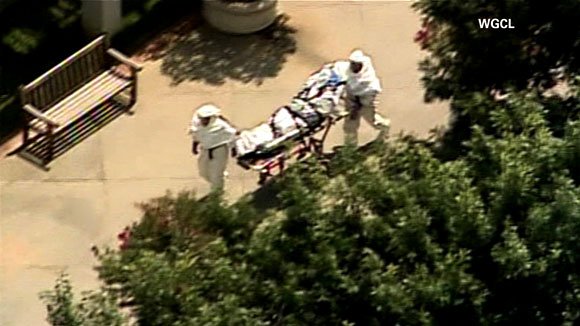 But three vials of ZMapp stored at subzero temperatures were flown into Liberia. Brantly and Writebol took the drug, and their conditions improved before they evacuated to the United States.
The medicine is thought to work by preventing the virus from entering and infecting new cells. It's a three-mouse monoclonal antibody -- meaning mice were exposed to fragments of the Ebola virus, and the antibodies generated within the mice's blood were harvested to create the medicine.
While Brantly and Writebol's conditions improved after taking the drug, the serum shouldn't be viewed as a miracle cure, internist and gastroenterologist Dr. Jorge Rodriguez said.
"Let's be cautious. We don't even know really if this serum is working," Rodriguez said. "I'm glad now that these patients were brought to a hospital where so many tests can be done, where they can see the response of their body to this serum. We don't know if these patients are naturally getting better, or whether the serum is really doing something."
Many have asked why the two Americans received the experimental drug when so many in West Africa also have the virus.
The World Health Organization says it was not involved in the decision to treat Brantly and Writebol. Both patients had to give consent to receive the drug knowing it had never been tested in humans before.
The process by which the medication was made available to the American patients may have fallen under the U.S. Food and Drug Administration's "compassionate use" regulation, which allows access to investigational drugs outside clinical trials.
How Ebola spreads
Ebola doesn't spread through the air or water. The disease spreads through contact with infected organs and bodily fluids such as blood, saliva and urine.
Historically, the odds have not been good. Previous Ebola outbreaks have had a fatality rate of 90%, but the current outbreak in West Africa has a rate of about 60%, perhaps because of early treatment.
There is no FDA-approved treatment for Ebola. Emory will use "supportive care" for its two Ebola patients, unit supervisor Dr. Bruce Ribner said.
That means carefully tracking a patient's symptoms, vital signs and organ function and using blood transfusions and dialysis to keep patients stable.
The National Institutes of Health plans to begin testing an experimental Ebola vaccine in people as early as September. Tests on primates have been successful.
In the 1990s, an Ebola strain tied to monkeys -- Ebola-Reston -- was found in the United States, but no humans got sick from it, according to the CDC.
Concerns, testing spread outside Africa
A man hospitalized in New York City was in strict isolation Monday and Tuesday, waiting to learn whether he has the disease.
The patient became ill after recently traveling to West Africa, New York's Mount Sinai Hospital said.
Doctors were trying to confirm the cause of the man's high fever and gastrointestinal symptoms. A specimen from the patient was delivered to the Centers for Disease Control and Prevention in Atlanta; testing typically is completed within 48 hours, the hospital said Tuesday.
But "odds are this is not Ebola," said Dr. Jeremy Boal, chief medical officer of the Mount Sinai Health System. "It's much more likely that it's a much more common condition."
The patient was stable Monday night into Tuesday and was in "good spirits," the hospital said in a news release Tuesday.
CNN Chief Medical Correspondent Dr. Sanjay Gupta agrees. About half a dozen people have recently returned from West Africa and gotten tested because of symptoms, but none of those cases has been confirmed as Ebola, Gupta said.
Doctors in Saudi Arabia are also taking precautions as they treat a 40-year-old man who recently returned from Sierra Leone.
The man was in critical condition Tuesday with symptoms of a viral hemorrhagic fever, the Saudi Health Ministry said.
The source of his infection remains unknown, but Ebola cannot be ruled out, the ministry said.