American woman infected with Ebola arrives in U.S.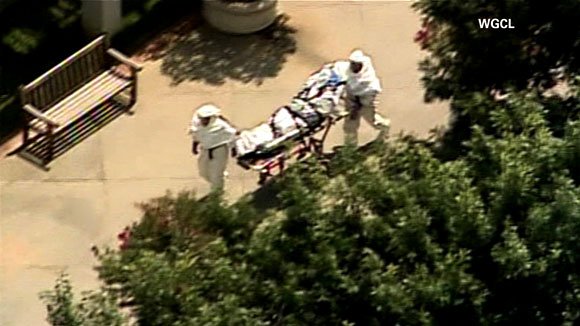 Nancy Writebol's family says it was making funeral plans for her last week as she lay stricken with Ebola in Liberia amid the disease's deadliest recorded outbreak.
After an experimental serum and a plane flight, she's now the second human Ebola patient on U.S. soil, and her relatives think she has a fighting chance.
A medical plane on Tuesday flew Writebol from Liberia to Atlanta, where she was rushed to the same hospital where an American missionary colleague arrived days earlier. Like her, he was sickened by the deadly hemorrhagic disease while on a team caring for Ebola patients in Monrovia.
Writebol was wheeled into Emory University Hospital early Tuesday afternoon on a gurney, wearing a white, full-body protective suit and escorted by two people wearing similar gear.
There, she joins her fellow missionary Dr. Kent Brantly, who became the first Ebola patient ever in the United States on Saturday, for treatment in a special isolation unit. It is one of four of its kind in the United States designed to optimize care for those with highly infectious diseases.
"Nancy is still very weak" but has shown signs of improvement, said Bruce Johnson, president of Christian mission group SIM USA, with which Writebol is affiliated.
Writebol's arrival contrasted with that of Brantly, who wore a similar suit but walked into the hospital Saturday with someone's assistance.
Writebol, of North Carolina, and Brantly, of Texas and Indiana, were on a joint Samaritan's Purse-SIM team caring for Ebola patients last month when they became sick in Liberia. That is one of four West African nations hit by an outbreak that the World Health Organization believes has sickened 1,603 people and killed 887 of them.
Writebol's two sons expect to communicate with her soon, Johnson said. The family was considering funeral arrangements for her just last week, days after she became sick, David Writebol said through Johnson.
"Yet we kept our faith, (and) now we have real reason to be hopeful," David Writebol said in a statement read by Johnson.
Though there is no proven treatment or vaccine for Ebola, Brantly and Writebol were recently given an experimental, U.S.-manufactured drug in Liberia while they were awaiting evacuation to the United States. Both have since shown significant improvement, sources said on condition of anonymity.
The gruesome disease that can torment victims with profuse vomiting, uncontrollable bleeding and organ failure is ravaging West Africa. The outbreak started this year in Guinea but also has affected Liberia, Sierra Leone and Nigeria.
The flight and the experimental serum
Though Writebol was weak, she had yogurt before her flight early Saturday from Liberia to the United States, Johnson said. She was taken to the plane by stretcher, but she stood up and entered the plane with assistance, he said.
The experimental drug ZMapp, which Brantly and Writebol received despite the medication never being subjected to clinical trials, is getting a lot of attention.
Just last Thursday, Brantly's condition in Liberia had deteriorated so badly that he called his wife to say goodbye.