Lancaster lauded for community service efforts
Cited by League of California Cities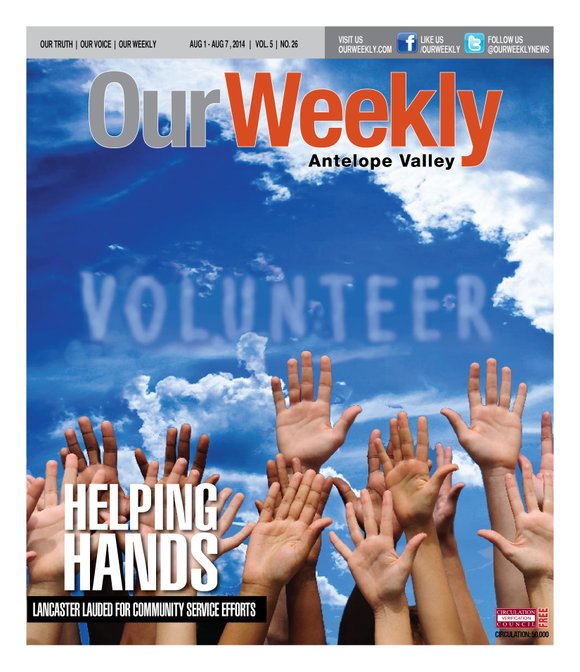 Lancaster Mayor R. Rex Parris is an advocate of building a strong community by means of regular input and volunteer participation from residents. This is taking place daily in Lancaster as the city council commended recently three volunteers from the AmeriCorp and VISTA (Volunteers in Service to America) programs for their efforts to "lead, inspire and connect" with one another.
Michelle Barron, Amanda Reyes and Clyde Villacisneros, the three VISTA team members who helped build the OneLINC program, were honored for their respective one-year terms operating the community website designed to connect residents with opportunities to volunteer. OneLINC is a community-based website, still in its early stages, that serves as a unique networking tool for volunteers interested in working together to make Lancaster a more pleasant city to reside in.
"During its initial four months, this user-friendly website has already demonstrated that it will bring many people together to support our community," Parris said. "We commend the VISTA team for all of the effort they have put into this program over the past year, and we are excited to find out just how the coming years will shape OneLINC and our community."
OneLINC is a collaboration with the Lancaster Neighborhood Vitalization Community and Antelope Valley Partners for Health. A new five-member VISTA team will soon embark on developing the Lancaster Health and Wellness Initiative which will work to improve awareness of and access to health and wellness resources throughout the Antelope Valley.
"We are very proud of the OneLINC program's success thus far," said Luis Garibay, senior projects coordinator with OneLINC. "The initial VISTA team may be moving on to the next chapters of their lives, but they have left behind an incredible tool which will continue to serve Antelope Valley residents and organizations for many years to come."
Lancaster is also heralding a number of community improvement projects which were showcased last month as part of the League of California Cities' California City Solutions. The community projects were recognized as an example of successful neighborhood-improvement plans and were listed among the state's most innovative programs. The League of Cities said the Lancaster programs have worked well to encourage residents and volunteers to improve the safety of residents.
"The scope of these community volunteer projects, as well as the willingness and continuing high energy invested by the team of Stronger Safer Neighborhoods volunteers, young and old, has generated year-round spirit of service in making Lancaster a better place to live for all residents," according to the League of California Cities.
VISTA remains vital service program
The VISTA program was recognized by city hall officials as an outstanding way to encourage volunteerism. "The VISTA team has devised and executed an excellent means of pulling together a vast array of community resources," said Lancaster Vice Mayor Marvin Crist. "This program will quickly become one of the best resources available to the community based organizations in the Antelope Valley." Both Crist and Councilman Ron Smith commended the VISTA volunteers for fostering a better working relationship between local faith-based groups, service organizations and potential volunteers. By creating a single resource for interested parties to volunteer, Smith said, the city intends to facilitate even higher levels of volunteer participation and community-based organizations. Officials hope that current VISTA volunteers can help to train potential volunteers and organizations to operate and maintain their own profiles on the OneLINC website.