A fresh and savory side dish
Roasted asparagus with pancetta and shallot vinaigrette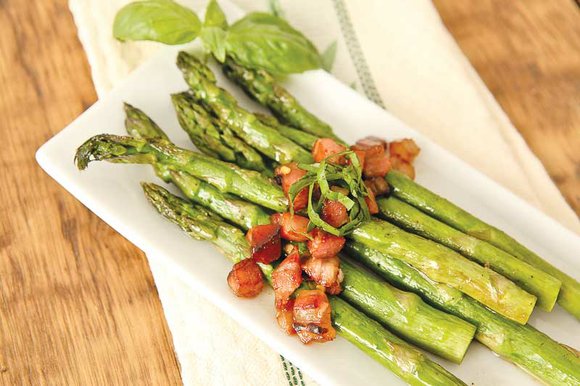 Sometimes the most memorable, flavorful dishes are those that start with a few ingredients you already have on hand.
For home chefs and foodies alike, it is easy to create flavorful meals in a flash with a well-stocked pantry, including tried-and-true staples like extra virgin olive oil, red wine vinegar and an array of seasonings. With these kitchen essentials, you can create a delicious side dish to complement any entrée - from fish, beef to chicken—or even vegetarian options. Stocking up at your local Safeway with these pantry essentials will ensure you're ready for delicious meals with your friends and family.
Add new flavors to meals
Did you know that different types of olive oils should be used to complement specific types of recipes? The Pompeian Varietals Collection, a premium line of mono-varietal extra virgin olive oils celebrating the unique taste profiles of single olive varieties, allow you to find the perfect, complementary oil and flavor profile for all of your dishes, from delicate seafood to juicy red meats. Varieties include:
• Arbequina: A mild-bodied extra virgin olive oil with a round taste of mature fruitiness and a delicate sweetness of almonds, ideal for fish and vegetables;
• Koroneiki: A full-bodied extra virgin olive oil with robust fruitiness and a sensation of fresh cut grass leading to a peppery finish, perfect for soups and salads;
• Picholine: A medium-bodied extra virgin olive oil with a green fruitiness, hints of herbs and a pleasing balance of bitterness, great for meats and sauces.
Take your meals to new heights by stocking your kitchen with quality ingredients, such as the new Pompeian Varietals Collection, available at your local Safeway, VONS or Pavilion grocery stores.
For more recipe ideas, visit www.pompeian.com. To find Pompeian at a Safeway near you, visit the store locator at www.safeway.com.
Roasted asparagus with pancetta and shallot vinaigrette
Servings: 6
2 bunches thin asparagus, rinsed and ends
trimmed
3 tablespoons Pompeian Arbequina Extra Virgin
Olive Oil
1/4 teaspoon salt
Freshly ground black pepper, to taste
2 ounces cubed pancetta
1 shallot, minced
1 clove garlic, minced
3 tablespoons Pompeian Red Wine Vinegar
1 teaspoon sugar
1/2 teaspoon Dijon mustard
1/4 teaspoon crushed red pepper flakes
3 tablespoons thinly sliced fresh basil leaves
Heat oven to 500°F. Place asparagus on large baking sheet with sides. Add one tablespoon Pompeian Arbequina Extra Virgin Olive Oil and toss to coat asparagus, then arrange in single layer. Sprinkle with 1/8 teaspoon salt and freshly ground pepper to taste. Roast, shaking pan once or twice, until asparagus is crisp-tender, about 8-10 minutes.
While asparagus is roasting, heat one tablespoon olive oil over medium-low heat. Add pancetta, and cook about 5-7 minutes. Add shallot and garlic; cook an additional 2-3 minutes, stirring constantly until lightly golden. Remove from heat and stir in remaining olive oil and salt, Pompeian Red Wine Vinegar, sugar, mustard and red pepper flakes, until combined and sugar is dissolved. Arrange asparagus on platter and drizzle with pancetta vinaigrette. Top with fresh basil and serve.