NFL prospect De'Anthony Thomas paves the way for his siblings
'Black Mamba' is just the beginning; here comes 'Thunder and Lightning'
By Jason Lewis | 4/24/2014, midnight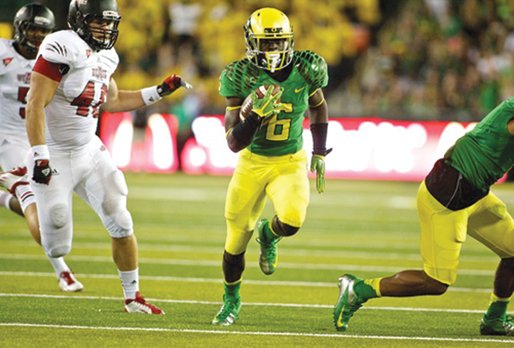 Most of the sports world knows about De'Anthony Thomas, as the "Black Mamba" captured the nation's attention with his blazing speed while playing for the University of Oregon. He is well known in Los Angeles for being a key member of Crenshaw High School's back-to-back championships in 2009 and 2010. He is on his way to the NFL, and it looks like he is blazing a trail for his younger siblings.

Thomas' parents, Howard and Gaylian Barnes, have reared a house full of boys, and their home could be called an athletic department. Their oldest son Davion played football at Culver City High School. They currently have two sons playing high school sports. Dammorea graduates this year from Crenshaw High School, where he played football and baseball. Delon plays football at Fairfax, and he is a leader on the field.

Then there are the youngest two: Dakahrrie, nine, and De'Markus, six, also known as "Thunder and Lightning." Dakahrrie is Thunder, because he is a thick and powerful player. De'Markus is lightning, because like his older brother De'Anthony, he is the fastest player on the field.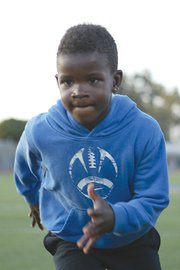 Both Dakahrrie and De'Markus play football for the Crenshaw Colts and they both run for the Velocity Track Club. De'Markus is a near carbon copy of De'Anthony, as it is nearly impossible to find a kid his age who can compete with him. He started running with the track club at four-years-old, even though the youngest age group is six. Two years into his track career, mostly running against older kids, he still wins nearly every race with ease. It's in his genes to be a blazer.
"When he was about two years old he started running like his older brothers," Howard said. "He would watch and imitate the kids working out. He took to it like a fish in water."
Howard coaches the junior varsity team at Fairfax High School, and when De'Markus hits the field he looked nearly as fast as some of the high school athletes. That speed has been evident during track meets, and while on the football field.
"De'Markus has tremendous separation speed," Howard said. "A lot of times we tried to develop his abilities to run between the tackles and the guards, rather than just using that speed to get outside to turn the corner. A lot of teams do that with a faster back. We're trying to teach him the right running style and not to be afraid to run right at that linebacker. It's really creating a high degree of separation where as you can have a player who thinks he's about to make that tackle, and you just see De'Markus change gears and he's just gone."
Dakahrrie is a different type of athlete. He isn't a burner, but more of a tough player. In football he sees most of his action on the line, but he also plays running back, linebacker, and he can play quarterback. His game is built on power, but he has a lot of speed for a bigger type athlete, which also allows him to excel at track.