Boxer, Rubin 'Hurricane' Carter, dies
Wrongly convicted of murder he spent 19 years in prison
By Steve Almasy and Eliott C. McLaughlin | 4/24/2014, midnight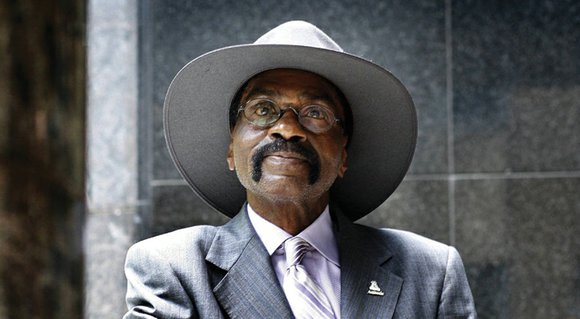 Rubin "Hurricane" Carter, the middleweight boxing contender who spent 19 years in prison after being wrongly convicted of a triple murder, died April 20 in Toronto, according to Win Wahrer, the director of client services for the Association in Defence of the Wrongly Convicted.
Carter, 76, died of complications from prostate cancer, Wahrer said.
"I always remember spending hours and hours with Rubin talking about the wrongful convictions," she told CNN. "He was a great mentor and teacher. I felt very fortunate to have those times with him. He lived a very full life."
Carter spent 19 years in prison for a triple killing in New Jersey before a federal judge ruled in 1985 that he and John Artis, who was with Carter on the night of the shootings, did not receive fair trials and released them.
Artis was with Carter when he died early Sunday morning, Wahrer said, adding that Carter had lived in Toronto since his release from prison.
Carter told CNN three years ago that prison allowed him to do two things: shed the illusions and anger that spurred his youthful delinquency, and come to the realization that his destiny might lie in fighting for justice. He was a title-seeking prizefighter no more.
But first, he had to scrap his way out of prison.
"Hatred and bitterness and anger only consume the vessel that contains them. It doesn't hurt another soul," Carter told CNN. "If I were to allow myself to continue to feel that anger and the bitterness of being a victim, I would have never survived prison itself. Prison can deal with anger; prison can deal with hatred because prison is about all those things. So I had to overcome those things."
Carter became an activist for the wrongly convicted after his release and was the first executive director of the Association in Defence of the Wrongly Convicted from 1993 to 2004.
"Rubin will be remembered by those at AIDWYC who were fortunate enough to have worked with him as a truly courageous man who fought tirelessly to free others who had suffered the same fate as he," the group said in a statement.
"We will continue to fight against wrongful convictions, a battle that Rubin valiantly fought until the day he died. Rest in peace Rubin, your battle is over but you will never be forgotten."
There was a time when boxing enthusiasts were giddy about Carter's future. He was fast and powerful, hence his sobriquet, and despite being short for his weight class (5-foot-8), he became a Madison Square Garden and television fixture.
Ring magazine declared him one of the top middleweight contenders in 1963 after he knocked out 11 of his first 15 professional opponents.
"His shaven head, prominent mustache, unwavering stare and solid frame made him an intimidating presence in the ring decades before such a look became commonplace," according to the New Jersey Boxing Hall of Fame.
Following a loss in his only title bout in 1964, Carter precipitously fell from grace, losing seven of his 15 final matches before being fingered in a 1966 triple homicide at the LaFayette Bar and Grill.