'Showtime' fondly recalls Lakers' championship years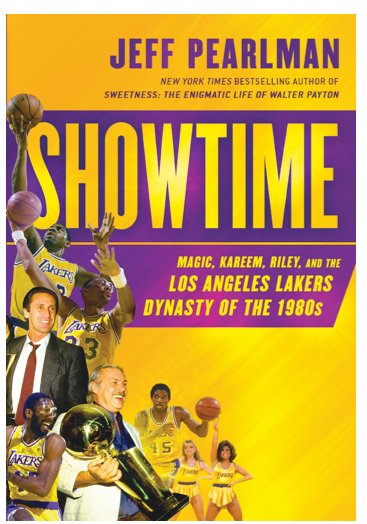 When Earvin "Magic" Johnson abruptly changed Jack Kent Cooke's lunch menu, a new era of Los Angeles Lakers basketball had begun. By then, the eccentric sports mogul had turned over the keys to his Fabulous Forum to Dr. Jerry Buss and that 1979 transaction begins Jeff Pearlman's Showtime: Magic, Kareem, Riley and the Los Angeles Lakers Dynasty of the 1980s (Penguin Group, 2014, $30), which transports readers to the remarkable '80s filled with fast breaks, fast women, fast highs and plenty of famous headlines that made the Lakers the talk of the sports world.
Pearlman's book is a revealing review of the Lakers' decade-long dominance of the National Basketball Association (NBA), arriving at a fortuitous time for disappointed fans of the "purple and gold" (not "Forum Blue" and gold) who, after a poor performance in 2013-14, are sitting at home this post-season. The book is an excellent opportunity to reminisce about the halcyon days when the team regularly dispatched the opposition by demonstrating a mix of unparalleled athleticism, Hollywood glitz and glamour and a mission statement of not merely being a perennial championship contender, but setting out to regularly win the championship via attracting the best players money could buy.
Money was always an operative word within the world of Jerry Buss. Unlike Cooke, Buss spent lavishly on the team, from Hawaiian training camps to luxury transportation. Behind the many headlines local readers may recall was an intent desire by the organization for greatness in a town where mediocrity is ignored. Early on, a Las Vegas lawyer and coaching "go-between" was found dead in the trunk of his Rolls Royce. The new coach fell from his bicycle and was never seen on the sideline again. A famous veteran couldn't overcome his addiction to cocaine. A young superstar signed for a whopping $1 million per year, then voiced public displeasure of the head coach and requests to be traded. The owner would think otherwise. A popular player among teammates and fans is detested by the general manager—to the extent that he's trailed by private investigators—and is shipped off to professional obscurity.
And this is just after the first three years of the decade. Showtime is a must for every sports library. Pearlman, a New York native, it would appear followed the Lakers as closely as any diehard fan in Los Angeles. He recalls the insular Kareem Abdul-Jabbar with unflinching criticism and respect. The legendary center will not come off in this book as a popular icon. He probably offfered 10 words to Head Coach Pat Riley, Jerry West or Buss in a typical one-month span. They weren't enemies. Abdul-Jabbar and his generation probably did not have much to say to White people.
Mid-way through he decade, Los Angeles had finally defeated the dreaded Boston Celtics for the NBA crown. They achieved that lofty goal and future championship requirements by satisfying the financial demands and egos of Johnson, Abdul-Jabbar, Jamaal Wilkes, Michael Cooper and adding veterans such as Bob McAdoo, "roughnecks" like Kurt Rambis and Orlando Woolridge, the amazing James Worthy and, later, A.C. Green and Byron Scott, the latter rookie stepping into a firestorm the first day he reported to practice.