South L.A. at-risk students build award-winning websites in 10 hours
Councilmember Curren Price supports YouthBuild Charter School of California
4/17/2014, midnight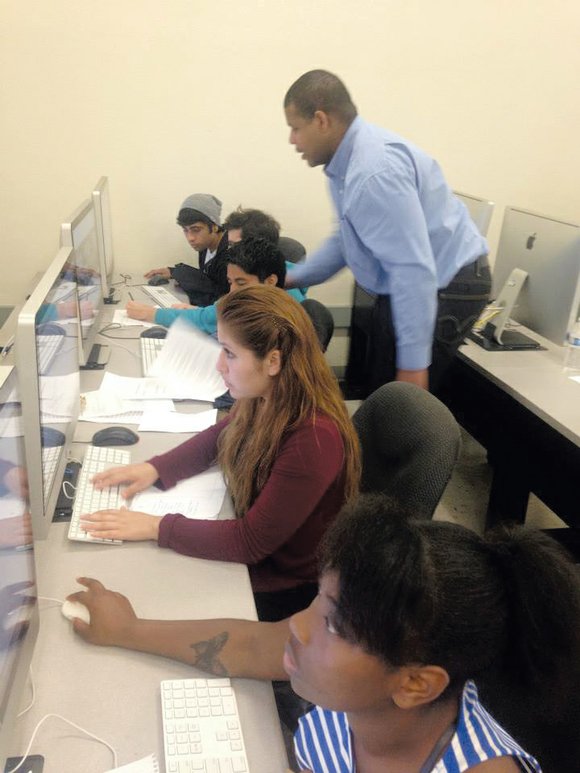 After a week of intensive classes in HTML and CSS coding, 20 YouthBuild Charter School of California (YCSC) students spent 10 hours building websites for local businesses. YCSC, in collaboration with URBAN TxT and Factual and sponsored by Colocation America, hosted the all-day student WebSlam at Los Angeles Trade Tech College. City Councilmember Curren Price attended to show his support for the event, and a panel of industry leaders judged the students' websites and awarded prizes for best web design.
Price thanked the students for their work, telling them they were part of a revolution. He talked about the "New Ninth" as a place for new ideas, new energy, and new enthusiasm, and said that the WebSlam was certainly a part of that process.
At the event, the students worked in teams with technology mentors from Factual and local freelance web designers to build websites for local businesses to help give back to the community. The winning websites were:
1st Prize: Shaquann's Gourmet Cookies: http://samiewalt.com
2nd Prize: Los Angeles Trade Tech College's Cosmetology Department: http://salonservice.lattc.edu
3rd Prize: Los Angeles Trade Tech College's A.S.O.: http://aso.lattc.edu
By working with their business clients to design a website that met their needs, the students were able to enhance their web design skills and their entrepreneurial skills. The WebSlam also created an environment for young people who are traditionally underrepresented in STEM (Science, Technology, Engineering, and Mathematics) fields to present their skills and work alongside STEM professionals, who were also excited to give back to the community and work with the next generation of STEM leaders.
"The WebSlam was a great opportunity for these young people to explore technology through HTML coding and recognize that web design and computer science careers are well within their reach," said Phil Matero, CEO of YouthBuild Charter School of California.
"We were thrilled to have the opportunity to collaborate with partners like Colocation America, Factual, URBAN TxT and LA Trade Tech in the shared goal of promoting computer science careers for young people of color in South L.A. while also giving back to the community here," said Nadia Despenza event organizer and YouthBuild Charter School of California STEM Coordinator.
YCSC plans to expand opportunities in computer science and web design in the coming years to serve even more students.
For more information on the YouthBuild Charter School of California visit www.youthbuildcharter.org.