Rapper Andre Johnson severs penis, jumps off building, but survives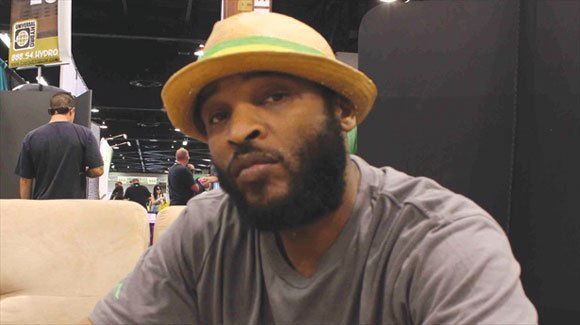 NORTH HOLLYWOOD, Calif - A 40-year-old rapper known as "Christ Bearer" sliced off his penis and jumped from the second-floor balcony of his North Hollywood apartment today, but survived what was believed to be a suicide attempt.
   The rapper, whose real name is Andre Johnson, was seriously injured in the fall, which occurred at about 12:50 a.m. in the 4500 block of Colfax Avenue, police said.
   Johnson is a member of Northstar, a group affliated with the Wu-Tang Clan.
   Associates told the website TMZ.com that Johnson jumped up, cut off his penis and then leapt from the balcony. One media report indicated that Johnson got up after the jump and ran around screaming incoherently. His associates said Johnson was not doing any "hard drugs."
   Los Angeles Police Department Officer Nuria Venegas told City News Service no drugs were found at the scene and no arrests were made.
   "It's an apparent suicide attempt but we don't know why he tried to kill himself," she said.
   Johnson was taken to Cedars-Sinai Medical Center in critical condition, according to TMZ. His current condition was unknown and it was unclear if doctors were trying to reattach his organ.
   Johnson performs under the name "Christ Bearer" with the artist Meko the Pharoh as the duo rap group Northstar. Northstar is listed as a Wu-Tang Family Group member on the Wu-Tang Clan's website, WuTangCorp.com, which also has posted at least five Northstar videos dating back to 2003, the year Northstar released its debut album, "Bobby Digital Presents Northstar."
   According to Johnson's Facebook page, he lists himself as a "member of the WestCost Killa Bee Group Northstar" discovered and signed by RZA in 1998. RZA, whose real name is Robert Diggs, is the Wu-Tang Clan's chief producer.
   Some fans posted get-well wishes on the Wu-Tang Clan site and Johnson's Facebook page. Johnson has posted a host of messages on his Facebook page in recent weeks, mostly uplifting. One of them read, "Be mindful of what you throw away, be careful of what you push away and think hard before you walk away."