New market opens in South L.A.
Northgate Gonzalez market is expected to provide nearly 200 jobs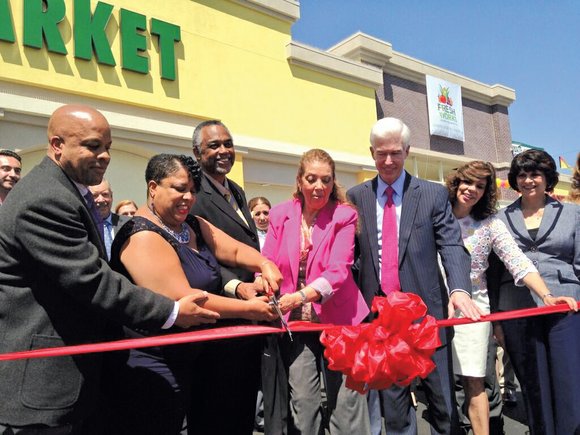 A Latino market that opened in South Los Angeles Monday is providing fresh produce and nearly 200 jobs, including one for a young man hired as a bag boy who hopes to work his way up.
The newest Northgate Gonzalez market is at 944 E. Slauson Ave., within the Juanita Tate Marketplace on what used to be an undeveloped industrial lot.
"Although our surroundings aren't too beautiful ... this in itself is going to make the community seem better and everyone is going to enjoy this beautiful store," said Eric Hurtado, taking a quick break from bagging groceries.
Hurtado, born and reared in South Los Angeles, is one of about 130 recent hires at Northgate Gonzalez, which has 42 stores across the Southland.
"I'm glad they are here," he said, adding that he hopes to work his way up within the company.
The market will ultimately employ 200 people, according to Teresa Alvarado, owner of Northgate Gonzalez markets.
Mayor Eric Garcetti made a surprise appearance and joined other elected officials for a celebration of the opening. Garcetti called the new market a major milestone for the community, but said there needs to be more job opportunities for South Los Angeles residents.
"We're creating jobs in this town, but we're also creating poverty in this town," Garcetti said. "How do we square that there is more poverty at the same time there are more jobs? It's because people who live here aren't getting those jobs and we must change that."
Los Angeles County Supervisor Mark Ridley-Thomas said the opening takes a bite out of the "grocery desert" in the neighborhood.
"It means fresh produce in this community," Ridley-Thomas said.
The supermarket took 15 years to develop and was financed mainly through the California FreshWorks Fund, which awarded Northgate Gonzalez market a $50,000 grant and a $5.5 million loan. The FreshWorks Fund is meant to bring healthy food retail stores or outlets to communities that do not have them.
Training for jobs at the supermarket is being managed by Homeboy Industries, which serves high-risk men and women who formerly were involved with gangs.