Mayor's new budget proposal emphasizes 'back-to-basics' agenda
Proposal includes extending library hours, hiring law enforcement, and fixing city streets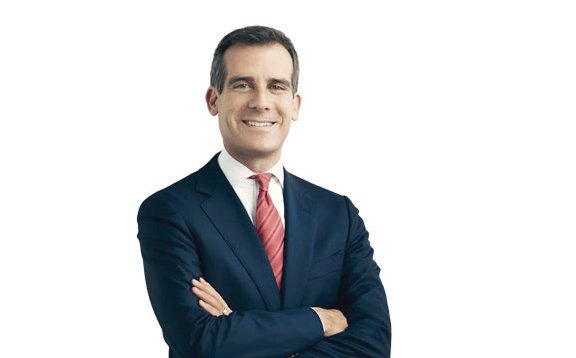 Mayor Eric Garcetti unveiled an $8.1 billion budget proposal this week that includes money for expanding library hours, hiring more firefighters and code enforcement officers, and fixing deteriorated city streets and sidewalks.
Repeating a theme he used in his State of the City address last week, Garcetti said his first budget proposal as mayor focuses on a "back-to-basics" agenda and would "pave more streets, fix more sidewalks, provide more police patrols (and) help businesses get started more quickly."
"Angelenos expect a city hall that's on their side, that spends their taxpayer dollars wisely, that protects people and opens up doors of opportunity," he said. "That's what back-to-basics is all about."
The proposed budget bridges a projected shortfall of $242 million in fiscal year 2014-15 with the help of better-than-expected returns from taxes; savings on employee pensions and benefits; the elimination of vacant positions that equal 46 full-time jobs; grants and surplus funds; and $47.9 million from the city's reserves.
Garcetti said there would be no layoffs, but he and other city leaders are pushing for no raises for city employees while calling on all workers to pay 10 percent of their health-care premiums.
Garcetti also proposes spending $142 million to fix 2,400 of the city's 28,000 lane-miles of streets, including patching more than 350,000 potholes. His budget also calls for $20 million to repair sidewalks.
The budget proposal also calls for $1.8 million to increase library hours, nearly $14.8 million to maintain police ranks at 10,000 and $3.5 million to train and hire 140 more firefighters.
The budget also proposes a combination of the police department and fire department dispatch systems to cut down on delays, a change that would run about $1.5 million.
Garcetti also proposed a pot of $1.4 million in incentive money for city employees who present innovative ideas for improving the way the city is run.
Garcetti said he wants to spend $1.7 million to hire about a dozen more code enforcement officers to handle building violations and other problems such as overgrown yards and broken windows. The funding would increase a team of 25 officers to 38 and reduce the processing time for code enforcement complaints from 25 days to 14, according to the mayor's office.
The budget also calls for increasing zoo admission fees by $1 and charging a $1 fee for swimming in city pools, which are now free to use.
The proposal also would result in a $282 million reserve, which Garcetti said is the highest amount the city has had in its history. The city also would not be dipping into its budget stabilization fund, sending a "strong signal to the country, the bond markets, to our people that this city is getting its fiscal house in order," he said.
"While we have many highlights, this budget represents a transition period," Garcetti added. "We're making a down payment on our future. This first year, the gains will be modest. Although revenues are on the rise, deferred costs have risen even faster."
Garcetti said he will delay a plan to begin phasing out the city's business tax for one year, saying the city is dealing with a "tough budget year." But he included a goal in his budget plan to shave the existing business tax rate from $5.07 for every $1,000 of gross receipts to $4.25 per $1,000 by 2018.
According to the mayor's office, phasing out the tax rate would result in a loss of about $15 million in tax revenue for the city during the first year.
Many cities already have much lower gross receipts tax rates or do not charge one, though Santa Monica has one that is a little higher than the one in Los Angeles, according to Garcetti.
The mayor's proposal will be reviewed by the City Council, which is in the midst of budget discussions. City leaders typically aim to approve a budget—with revisions from the council—by May or before July 1, when the new fiscal year begins.
Garcetti said residents can learn more about the budget proposal online at https://losangeles.opengov.com/transparency.