Breaking Buds
South Los Angeles' and medical marijuana economy
His first introduction to medicinal marijuana was in the early '60s. His grandmother would prepare a solution of green alcohol and marijuana to be used as a topical analgesic. "I remember my brother wondering if he could remove the marijuana leaves from the jar, dry them, and roll a joint," he recalled. "My friend said no, he had tried it with his grandfather's supply and it didn't work."
Byrd says when he is asked about his profession he doesn't divulge that information because he feels somewhat embarrassed. He will discuss what he does for a living with cancer patients or people in the medical field but not your average Joe-blow.
"I believe we as African Americans see clinic owners as drug dealers," he explained. "I don't want to be kidnapped or suffer a 'jack move' or a robbery that many drug dealers experience."
The most embarrassing incident Byrd can remember was while making a cash deposit at a bank. The teller looked at him and said "one moment sir," then summoned her manager.
"The manager asked me to step down to the last window away from the teller line and I did. I just thought this was routine due to the amount of money I had." Byrd was informed by the manager that it wasn't the amount of money that was the issue, it was the pungent scent of marijuana.
"I informed her that I owned a medicinal marijuana clinic and she told me 'off-the-record' that I should spray the money with something perfumed to mask the odor because banks are uneasy about accepting proceeds from medical marijuana. The worry is that they might lose their charter since selling medicinal marijuana is a federal offense, and the federal government regulates banks."
The bank manager was referring to banks' reluctance to provide traditional services to marijuana businesses, according to Attorney Bruce Margolin, director of the Los Angeles National Organization for the Reform of Marijuana Laws (NORML). They fear that federal regulators and law enforcement authorities might punish them, with measures like large fines, for violating prohibitions on money-laundering, among other federal laws and regulations.
"Banking is the most urgent issue facing the legal cannabis industry today," said Aaron Smith, executive director of the National Cannabis Industry Association in Washington, D.C. Believing that legal marijuana sales in the United States could reach $3 billion this year, Smith added, "So much money floating around outside the banking system is not safe, and it is not in anyone's interest. Federal law needs to be harmonized with state laws."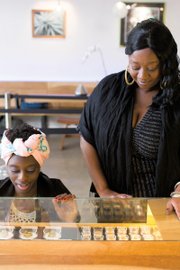 Byrd believes the policy banks have towards the marijuana clinics have created security risks for legal marijuana business owners making it more difficult for them to safely handle their cash.
Byrd's problem isn't unique. Many marijuana clinic owners are forced to pay employees with envelopes of cash. They transport duffel bags containing thousands of dollars in $10 and $20 bills to supermarkets to buy money orders. In some cases they are forced to open bank accounts under false pretenses, and if that doesn't work, these business owners are pushed to think "outside of the box" sometimes storing money in Tupperware containers filled with air freshener to mask the smell of the marijuana.