Palmdale celebrates groundbreaking for new shopping center
Rancho Vista Gateway brings ten new stores to the area
4/11/2014, midnight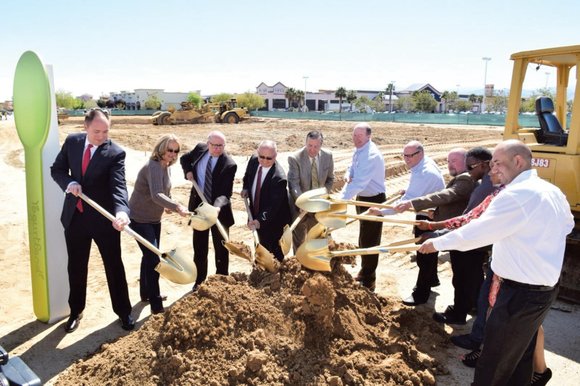 Palmdale officials, developers and representatives from several retailers gathered recently to celebrate the groundbreaking of the city's newest shopping center, located on Rancho Vista Blvd. near 10th Street West where Dunn Edwards Paint is currently located.
The new center, developed by Fountainhead Development of Newport Beach, will be the new home for Aldi, an international grocery chain, Chick-fil-A, Krispy Kreme, Yogurtland and The Habit. Dunn Edwards Paint, currently located on the property, will move into a new building when construction is complete.
"We are thrilled to have these great new retailers coming to Palmdale," said Palmdale Mayor Jim Ledford. "They each will be very well received by the residents of the Antelope Valley. This is the sort of thing that encourages even more new businesses to come to Palmdale."
Representing the developer and new tenants at the ceremony were CEO/Founder Fountainhead Development Craig Smith, Brent Garlinghouse of Krispy Kreme, Paul Chopra of Yogurtland, Jennifer Daw of Chick-fil-A, Derek Sifre of Dunn Edwards, and Paul Cornejo and Julie Ketay of Aldi.
The center will house 10 stores with a combined 45,400 square feet of space. There will be two large buildings, with Chick-fil-A in its own free standing structure on the east side of the property.