Rev. Al Sharpton an FBI informant?
Allegations resurface on the eve of the Civil Rights Summit
4/11/2014, midnight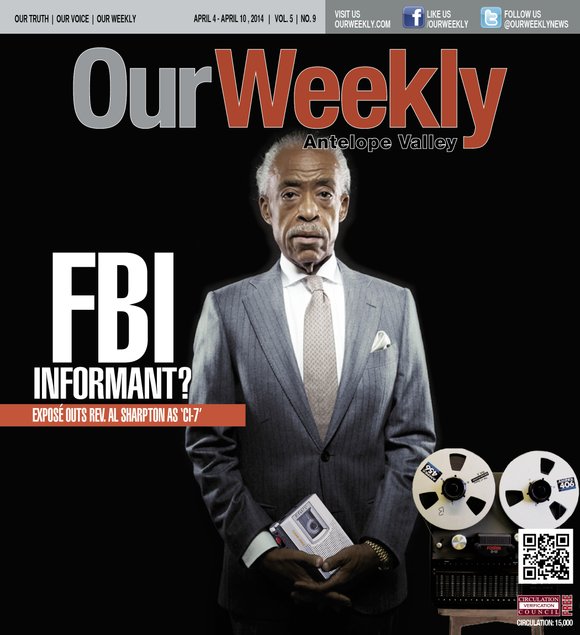 All of this is documented in reams of legal records chronicling the escapades of "CI-7" (short for Confidential Informant #7, the inter-bureau moniker bestowed on Sharpton). These transcripts seem to highlight Sharpton's value as a Confidential Informant; an asset the government regarded as beneficial, dependable, and trustworthy; a man whose well-being was essential for the maintenance of their ongoing criminal investigations.
Sharpton's ongoing tendency of rubbing shoulders with unsavory characters is well known. One alleged FBI surveillance tape even found its way to national air play in 2002 when it was aired on HBO's Real Sports with Bryant Gumbel. During the course of the grainy 90-minute footage, Sharpton appears to be the willing participant of a drug proposition with an undercover narcotics officer.
Dirty Hands in the Mouth
The nefarious world of undercover investigation is a nebulous environ of ambiguous identity and indefinite boundaries.
In an effort to gain a partial understanding of this, Our Weekly turned to law enforcement veteran Glenn Clark. Through his tenure as a patrolmen in the locally infamous "shootin' Newton" Street Division, Los Angeles District Attorney's Office, and as a Special Agent with the Federal Bureau of Investigation, he shared his memories.
Presented with the video presumably leaked by the authorities for broadcast on HBO, he offered up his opinion on the motive and rational behind the leak.
Responding to the allegations that Sharpton turned informant by choice, he pointed to the possible validity of the footage screened, saying "…if they leaked it, its true, and they will not deny it. They will sit back and let it (the leak) take its course."
To explain this away, Clark divulged a glimpse into the psyche of the cop culture, and the training that develops this particular mindset.
"Those involved—if they are still with the agency—will wash their hands of it," he went on.
"But they're not going to lie, so my guess is he was an informant. These agents are not going to 'put dirty hands in their mouths.'"
Police subculture, like any sizable occupational environment, generates its own internal form of slang, hence the reference of contaminated hands corrupting the speech of, and reputation of a reputable officer of the law.
Police procedure involves thinking down the road to separate investigations that might be impacted by decisions made today. Following this train of thought, the appearance of truth is paramount because it is forever linked with an operative's credibility. Thusly, an untrue statement may cast a shadow over any subsequent testimony or report that follows—even years later.
"When the agency develops a relationship with you as an informant, from my experience, they never know when you might be needed again."
This rule of thumb had been drummed into Clark long before he ascended to the ranks of the federal level. Going back to the Sharpton drug scam, he stressed, "…why comment on it if the information circulating is the truth?"
"In investigations that involve recorded surveillance, you do not lie—because if you are caught in a lie, it will haunt you for the rest of your career.