Rev. Al Sharpton an FBI informant?
Allegations resurface on the eve of the Civil Rights Summit
4/11/2014, midnight
Al Sharpton has never been a stranger to controversy. Bursting on the scene as a street-level provocateur during the racially charged 1980s in his native New York City, he became a polarizing figure as he led protest marches in response to the Bernhard Goetz shootings, the Howard Beach beatings, and the murder of Yusef Hawkins. The Hawkins episode thrust the self-appointed activist the role of martyr when a Bensonhurst resident stabbed the easily recognizable Sharpton in the chest, as the overweight media figure (known for his flamboyant jogging suits and gaudy jewelry) was about to lead a demonstration through that ethnic enclave in Brooklyn.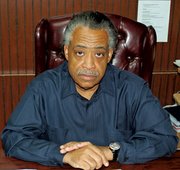 Since then, the Pentecostal minister, civil rights activist, and talk show host has been variously tagged by his detractors as an ambulance chaser, a hate monger, a race hustler, and a social opportunist. Over the years, the one-time firebrand has undergone a steady metamorphosis from street-level advocate to mainstream confidant. Trimming some 80 plus pounds from his once rotund frame, he now sports designer suits and hobnobs with the leading political figures of the day, becoming an intimate with President Barack Obama, and a regular visitor to the White House. A popular guest on many of the myriad around-the-clock news cable outlets, he has secured his own talk show PoliticsNation on primetime MSNBC, and has become, in the words of the New York Observer, "the most thoughtful voice on cable."
When confronted on this radical makeover, and reemergence into the national spotlight during a 2011 60 Minutes profile, Sharpton told reporter Lesley Stahl that he'd merely become "a refined agitator," still committed to his original goals, albeit presenting his point in a more palatable manner. This resulted in his becoming, in Stahl's words "the president's go-to Black leader."
Now on the eve of his annual Civil Rights Summit, to be attended by no less a personage then the president himself, a 12,195 word exposé has been posted on the Time Warner affiliated website theSmokingGun.com, giving this media icon a new, appellation: FBI snitch.
Spilling the Tea
To be sure, these allegations are old news. A cursory search of The New York Times archives yields an article from Jan. 21, 1988, titled "Protest Figure Reported to be a U.S. Informant." Its author, M.A. Faber stated that the Reverend Sharpton had provided assistance to prosecutors for the Eastern District of New York in legal proceedings against various members of Italian organized crime families (also known as "The Mafia"). Citing an earlier story from Newsday, a news daily serving the Long Island area, Faber also claimed that Sharpton supplied information on boxing promoter Don King, local activist and city councilman the Rev. Wendell Foster, and Robert "Sonny" Carson, a legendary Black Nationalist, community organizer, and the subject of a classic movie from the Blaxploitation Era, 1974's The Education of Sonny Carson.
Sharpton's involvement included facilitating the use of electronic "wiretapping" devices to record incriminating conversations involving, among others, the infamous Genovese crime family of New York. The tapes were never directly used as evidence in an actual court case, although they were used to secure legally approved wiretaps and other investigative tools that presumably led to convictions of disreputable characters targeted by federal authorities.