Taking the junior college route
The road is not over for athletes who have a plan and dedicate themselves to being a better student
By Jason Lewis | 4/10/2014, midnight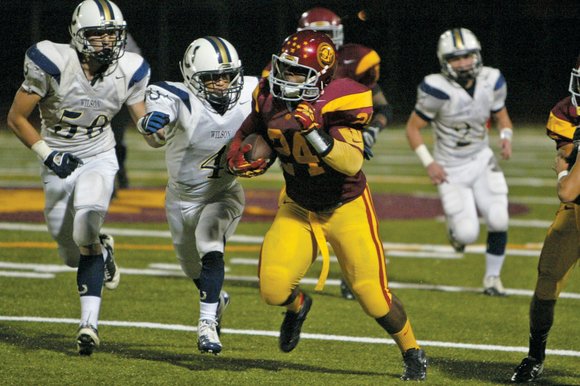 Most of the top high school athletes are rewarded with full-ride scholarships at the top universities in the nation, but there are many who have the talent to play college sports, but for one reason or another, don't receive a scholarship. That does not mean that they will be forever shutout; they just need to have a plan.

Santa Monica College Academic Counselor Byanca Barajas and B2G Sports Community Relations Director Jabari Ali have worked with a number of student athletes who took the junior college route and made it to the university level.

B2G Sports trains a lot of the top high school football players in the greater Los Angeles area, and many of them get scholarships right out of high school. But they also have a plan for those students who were not recruited. The first thing Ali has those players do, is to take an assessment exam at the junior college they are interested in playing for. Barajas concurs with that plan, and she believes it is better to handle that now, instead of waiting until after high school graduation.
"I've already seen some students this year, and it makes it a lot more helpful," Barajas said. "They come in and take the assessment, even though they are still in high school, just so that we can have an idea of where they are. If they only need one remedial course, then they can take it in the summer, prior to the start of the actual school year."
By taking the exam now, a student can hit the ground running with college level courses in the fall, instead of having to take the remedial classes then. It is important to be properly placed, because some students are not ready to write college level papers, or take college level courses.

Both Ali and Barajas recommend that athletes take a gray shirt season, which means that they do not play their first year out of high school, but they can still train with the team. Athletes have five years to play four seasons, but by taking a gray shirt year, the athlete's clock does not start. This can be beneficial for several reasons.

"If you did qualify for college, and you weren't recruited out of high school, it was probably because you're really young," Ali said. "A lot of kids who graduate from high school in California are 16 or 17. That's a disadvantage because everybody else that's being recruited, they're 18 and will be 19 going into college. Especially in the South and other parts of the country. They start school later, and some of their parents take advantage of holding them back in the 8th grade so that they can mature, academically and physically. It gives them an edge."
Ali points out that there is a huge difference in an athlete who is 16 and one who is 18.
"You see it when you're out on the field," Ali said. "Some of these kids are coming into their 'man' body. And then you have kids who look like they're just kids. That's a disadvantage. So if you're going the ju-co (junior college) route, why start your clock at 17, when you can start your clock at 18 as a freshman in college. That's where you want to be."