Four school stabbing victims in critical condition; teen suspect charged as adult
Alex Hribal, 16, faces 4 counts of attempted homicide, 21 counts of aggravated assault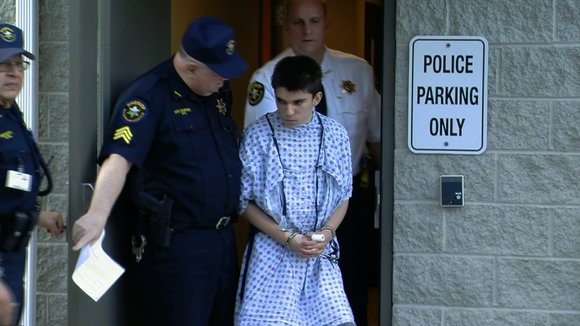 Then another call for help. "Be advised inside the school we have multiple stab victims," one of the officers said. "So bring in EMS from wherever you can get them.
'Saw the kid who was stabbing people'
Student Mia Meixner was standing at her locker.
"I heard a big commotion like behind my back," she told CNN. "And I turned around and I saw two kids on the ground."
She thought a fight had broken out, but then she saw blood.
"I saw the kid who was stabbing people get up and run away," she said.
Then she saw a girl she knew standing by the cafeteria. "She was gushing blood down her arm."
Meixner dropped her books and went to help the girl.
"I started hearing a stampede of students coming down from the other end of the hall, saying 'Get out, we need to leave, go, there's a kid with a knife.' Then a teacher came over to me and the girl I was trying to help. And she said she would handle the girl and that I should run out. So then I just ran out of the school and tried to get out as soon as possible."
Meixner never heard the attacker utter a word.
"He was very quiet. He just was kind of doing it," she said. "And he had this, like, look on his face that he was just crazy and he was just running around just stabbing whoever was in his way."
She said she didn't know the boy, but he had been in a lot of her classes. "He kept to himself a lot," she said. "He didn't have that many friends that I know of, but I also don't know of him getting bullied that much. I actually never heard of him getting bullied. He just was kind of shy and didn't talk to many people."
Hribal's attorney described him as a "nice young man," who has never been in trouble.
"He's not a loner. He works well with other kids," he said. "...He's scared. He's a young kid. He's 16, looks like he's 12. I mean, he's a very young kid and he's never been in trouble so this is all new to him."
At least a dozen FBI agents could be seen going in and out of Hribal's family home in the hours after the attack. Shortly before the agents arrived at the house, a man believed to be Hribal's father drove up.
"My prayers go out to everyone who was injured today, and I hope they recover as soon as possible," he told reporters.
Hribal's attorney said the family was upset by the allegations. "They did not foresee this at all," he said.
Tackled by an assistant principal
Assistant Principal Sam King is being credited with bringing the carnage to an end.
King tackled the teen, Peck told reporters. A school resource officer was able to handcuff the suspect, Police Chief Thomas Seefeld said.
The accused teen was being treated for injuries to his hands, the chief said.