Army's ban on dreadlocks; other styles seen as offensive to some African-Americans
Army says the regulations are needed to maintain a professional, uniform look among soldiers
4/8/2014, 1:32 p.m.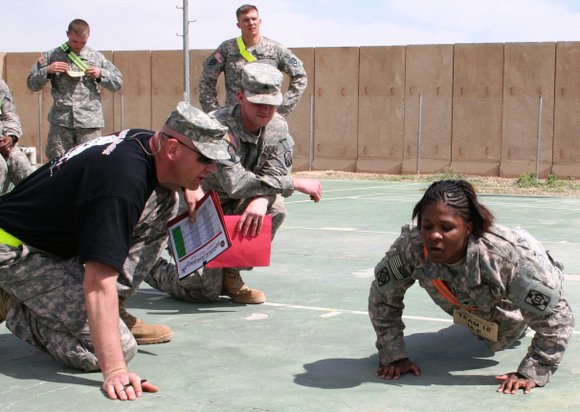 The U.S. Army's new ban on many types of ethnic hairstyles has African-American women who wear their coifs in dreadlocks, braids and cornrows in a twist.
The Army's regulations stipulate such guidance as hair "must be of uniform dimension, small in diameter (approximately ¼ inch), show no more than 1/8 (inch) of the scalp between the braids."
Dreadlocks "against the scalp or free-hanging" are banned. "Unkempt" or "matted" braids and cornrows are also considered dreadlocks and "are not authorized," according to the regulations that were updated this month.
It's that type of language, words like "unkempt" and "matted," that read to some African Americans, as code for racial bias.
"These new changes are racially biased and the lack of regard for ethnic hair is apparent," Sgt. Jasmine Jacobs of the Georgia National Guard wrote in a White House petition she started in late March asking the Obama administration to reconsider the policy.
Currently, the petition has more than 13,000 signatures.
"We feel let down," Jacobs told the Army Times. "I think, at the end of the day, a lot of people don't understand the complexities of natural hair. A lot of people, instead of educating themselves, they think dreadlocks and they think Bob Marley, or they see women with really big Afros and they think that's the only thing we can do with our hair."
The updates in appearance standards were crafted, in part, with the help of African-American female soldiers and are intended to clarify the professional look of soldiers, said Troy Rolan, an Army spokesman.
Previous regulations did not specifically address things such as braid widths or numbers, or the definition of twist styles.
"Many hairstyles are acceptable, as long as they are neat and conservative," Rolan said, noting the Army has banned dreadlocks since 2005.
If soldiers aren't happy, they can go through a formal process to request changes to the hairstyle regulations, the Army said.
"We encourage soldiers to make use of this process by sending recommendations and examples of hairstyles which could present professional appearances and conform to the regulation," Rolan said.
The rules' conciseness isn't the problem, say some African-American women and black studies scholars.
The problem, they say, is a perception that ethnic hair that is "natural" or not straightened with heat or chemicals is somehow unruly, unkempt and must be carefully regulated to fit within white cultural norms.
"In a broad sense, it's just another example of U.S. institutions policing black style," said Mark Anthony Neal, an African-American studies professor at Duke University. "And it's not that there aren't other examples of such policing among other racial and ethnic groups. But, given the fraught relationship between black identity and culture and what some Americans might perceive as 'normal,' it strikes a particularly dissonant chord among some blacks."
Mandating what should be done with black hair is a particularly sensitive matter.
During slavery and for generations after, hair texture, along with skin complexion, was used to classify which slaves were more valuable, given jobs in the master's house rather than the field, and --- by default --- deemed beautiful.