Local Legend: Dorsey High School Baseball Coach Peter Dobson
"'Who's going do it if you don't?"
By Jason Lewis | 4/3/2014, midnight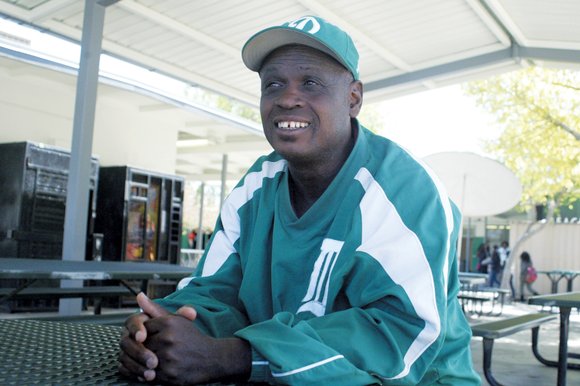 Dorsey baseball coach Peter Dobson has a simple mantra: "Who's going to do it, if you don't?"
Because of that mantra, Dobson has dedicated the bulk of his life to baseball at Dorsey High School, where he graduated from in 1985. His youth coach, Chuck Hearns, from Rancho Cienega Park once asked him that question.
"That's kind of stuck with me and that's what my mantra has been," Dobson said. "I try to see these kids through from one level to the next. I don't know if that's my calling, but that's what I'm doing. That's what kind of keeps me here. You see a kid in ninth grade, and you want to see him graduate and be successful when he gets out of here."
Dobson grew up in the area, and besides playing baseball as a kid, right next door to Dorsey, he also played football for Baldwin Hills. But baseball was in his roots.
"My father was a big baseball guy," Dobson said. "Back then baseball was traditionally passed down from fathers to sons, and that's one of the first things that we did, was go out and throw a baseball. We played catch in the backyard. I couldn't wait for him to come home so that we could go to the park. It's just one of those things that's kind of like a family tradition."
When Dobson played for Dorsey he was a shortstop and third baseman. The teams he played for were very competitive, as they won the Southern league title his senior year. He went on to play baseball at Lincoln University, the first Historically Black College and University (HBCU). He ended up there by happenstance.

"A friend of mine went to Crenshaw High School," Dobson said. "We were in the Boy Scouts together. His father took the Boy Scouts and made a baseball team at Rancho. Our parents had met up at Fedco and said that he had gotten into Lincoln. So I turned in my application on a Tuesday, got accepted Wednesday, on Thursday I had to get ready because I was on a plane on Friday."
The Black college experience was great for Dobson.

"They made you feel like you were a part of them," Dobson said. "When you go to school out here, you go to UCLA or USC, it's a big school. You have 40,000 people walking around, so you're just a social security number. But at Lincoln, I remember missing class one day, and the professor knocks on my door asking why I missed class. That's how small the school was. But the academics were great."
Dobson is a big promoter of HBCUs because he feels that they really want Black students, and that they will take care of them more than predominantly White institutions.

While in college Dobson majored in history, and he has been a social studies teacher ever since. After being a middle school teacher he came home to Dorsey in 2000, and he has been there ever since as the baseball coach and a teacher. He takes great pride in being able to teach in the neighborhood where he grew up.