The Internet's best April Fools gags
Google leads charge with Pokemon Maps, David Hasselhoff photo bombs
4/1/2014, 4:41 p.m.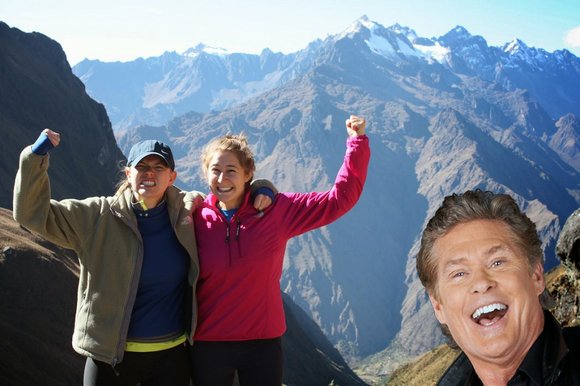 A new digital map helps you find the Pokemon among us. YouTube made a shocking confession, Samsung and HTC advanced the world of wearable tech with souped-up gloves and you'll never have to take another lonely selfie, thanks to The Hoff.
It must be April Fool's Day on the Internet.
In what's become an annual tradition, the tech world embraced the tomfoolery of April 1 with all the gusto you'd expect from clever geeks with time on their hands between hackathons. And the results this year were solid.
As usual, Google led the cheeky charge with a spate of gags spanning its many Web and mobile services.
First came the rollout of Pokemon Challenge, which turns the iOS and Android versions of Google Maps into a big version of the classic "catch 'em all" video and card games. According to the gag -- or are they serious? It's so hard to tell today -- applicants who find all 25 Pokemon hidden around the world will be considered job finalists by Google and given the job title "Pokemon Master."
"It's always been important to us to have the most qualified employees at Google," Brian McClendon, the company's vice president in charge of Maps, says in a video. "Now, using the technology created by the Google Maps team, we've prepared the most rigorous test known to man to find the world's best Pokemon Master."
To play, users just need to open the newest version of Maps on their phone, tap the search bar and press start. The Google Maps accounts on Google+, Facebook or Twitter will be providing hints and tips.
Google+ announced Auto Awesome Photo Bombs with David Hasselhoff, a tool by which everyone's favorite knight-riding, lifeguarding Teutonic crooner may magically appear in photos they upload to the site.
Google Translate will now work with Emojis, the Chrome team announced, letting Web users who cling to those old-fashioned things called "words" know what these cheerfully annoying little icons mean. (Spoiler: A pair of clapping hands means "Yay!")
"If somebody were able to just explicitly say, 'Hey, I'm flirting with you' or 'Hey, I'm mocking you,' that would just make my life a lot more efficient," joked Emily Mee, head of market research for Google Mobile Insights, in a YouTube video.
And speaking of Google-owned YouTube, the site made a big April Fool's confession: All those viral videos? Fakes.
"Since 2005, YouTube's staff has worked tirelessly behind the scenes, meticulously crafting the viral videos and Internet memes you've come to know and love," the announcement reads. "From mainstream hits like Gangnam Style and Harlem Shake to your obscure web forum favorites, our staff of writers, producers and directors has shaped the pop culture moments that matter in our digital lives."
The announcement, in a YouTube video, naturally, lifts the lid on the videos that "we" will make popular in the coming year. Among them: Clocking, an only slightly more ridiculous cousin to planking, Butter Fails, i.e. YouTube users "hilariously ruining their bread when they try to spread cold butter on it," and Baby Shaming.