USC fires coach Kiffin after record-tying loss
vOrgeron named interim replacement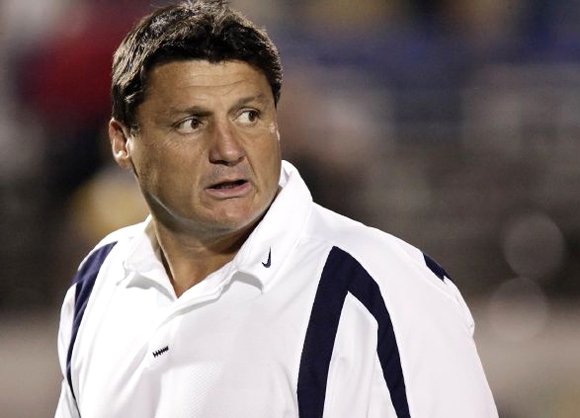 USC fired football coach Lane Kiffin in the middle of the night, and today announced that longtime assistant coach Ed Orgeron would step in as interim head coach.
Athletic Director Pat Haden informed Kiffin of his firing upon the team's charter plane arrival at Los Angeles International Airport early today, according to a four-paragraph statement released shortly after 4:30 a.m. The firing was in the parking lot, just hours after ASU had beaten USC, 62-41, in Tempe, Ariz.
Haden said at an afternoon news conference the firing was the result of "a combination of things over the last 2-1/2 years."
Haden said he had not heard any complaints from players or assistant coaches about Kiffin.
The only clue Haden gave as to who he is considering as a permanent successor is that "all the people I'm looking at are living."
Saturday's loss in Tempe was the Trojans' seventh in their past 11 games. The 62 points they allowed to ASU matched the school record, set in a 62-51 loss to Oregon Nov. 3.
The 38-year-old Kiffin was 28-15 in three-plus seasons as USC's coach, including a 3-2 record this season. But he was 0-2 in the Pac-12 this year.
The Trojans will next play Oct. 10, facing Arizona in an unusual Thursday night game in the Los Angeles Memorial Coliseum.
Orgeron is in the fourth season of his second stint at USC. He was Mississippi's coach from 2005-2007, guiding the Rebels to a 10-25 record.
Orgeron was the defensive line coach for the NFL's New Orleans Saints in 2008. He was Tennessee's assistant head coach, recruiting coordinator and defensive line coach under Kiffin in 2009.
Orgeron said the offense "won't look dramatically different" than it did under Kiffin.
"I totally trust we'll be put a great product on the field," said Orgeron, USC's defensive line coach from 1998 to 2004.
In what would become Kiffin's final game, the Trojans led 21-20 at 46 seconds into the second half. But they allowed ASU to score the next 28 points in what Kiffin described afterwards as a "disastrous third quarter."
Kiffin had become a target of anger from USC fans, with some chanting "Fire Kiffin" as the 10-7 upset loss to Washington State Sept. 7 at the Los Angeles Memorial Coliseum.
When asked Saturday night about the pressure he faced, Kiffin responded, "I'm fine with that. I have been dealing with that for 12 months. That's fine. That's the last thing I'm worried about. We have to find a way to coach better and play better and get our backups ready."
Haden had long backed Kiffin, who had been hired by previous Athletic Director Mike Garrett. When speculation surfaced that Kiffin would be fired following a 38-28 loss to rival UCLA Nov. 17, Haden told Los Angeles Times sports columnist Bill Plaschke "Lane is my head coach, 150 percent, now and hopefully for a long time. I see the future. I see the potential. I know what he's been fighting through and I like what he's done."