Teachers train to face school shooters
Instructors say guides on how to hide, run or fight should be mandatory for teachers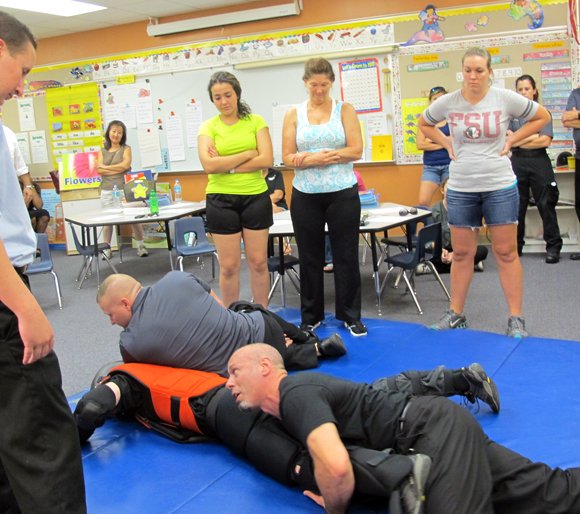 The tactics and strategies were tailored toward a school setting, instructors said, and part of the workshop focused on the school and classroom setup. Teachers were told which ordinary items found in a classroom might be used as weapons — for example, throwing a stapler at the shooter or using it to hit an attacker in the temple. If scissors were available, educators were told to aim for the eyes.
"Who cares how you incapacitate?" Friedman said. "Just attack the attacker. That's the mind set."
In the school's hallway, educators got a detailed lesson in how to run from the sound of bullets.
"'Cover' means that whatever you are behind will stop a bullet," Hudson explained, urging them to run from cover to cover.
When told to hide, Hudson reminded the group that if they aren't seen, they're less likely to be shot.
The workshop ended with a "bad guy" with a gun entering the classroom. The educators were taught how to find the room's "blind spot": a place where they won't be seen when the shooter entered the room. It was also the best position, the trainer said, to use the element of surprise if they needed to disarm the shooter.
A shooter, of course, that these educators wanted to prepare for but never hope to encounter.
"In addition to us providing exceptional education for the students, first and foremost, they have to be protected," Taylor said. "If they're not safe, then it doesn't matter what we do from an educational standpoint."
Kim Segal | CNN