Ex-mayor of Lynwood re-sentenced to 14 years for corruption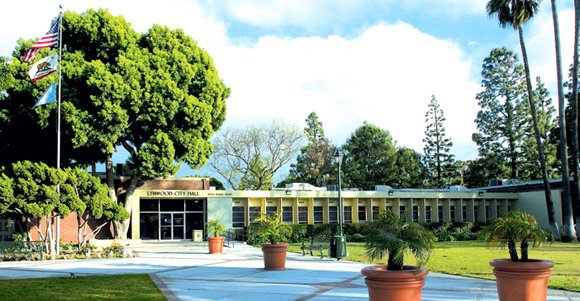 LOS ANGELES, Calif. — Former Lynwood Mayor Paul H. Richards II, who has served eight years in federal prison for corruption, was re-sentenced today to 14 years behind bars — a 20-month reduction from the original term.
Richards was convicted in 2005 of extortion, money laundering and "honest services" fraud, all related to a scheme that funneled no-bid city contracts to a consulting company controlled by Richards and his family.
His sister, Paula Cameo Harris, and Bevan Atlee Thomas, Richards' friend, who also were convicted in the case, received reduced sentences today.
Lawyers for the three argued in the U.S. 9th Circuit Court of Appeals that sentencing guidelines at the time of trial had changed in light of a United States Supreme Court ruling in Skilling v. United States. In Skilling, the high court ruled that "honest services" fraud applied only to schemes involving kickbacks and bribery.
Sentencing guidelines are tied to the level of loss incurred as result of corruption. Defense lawyers argued that the losses incurred were overstated because of charges dismissed or deemed non-criminal in light of Skilling.
But Assistant U.S. Attorney Lawrence Middleton said that Lynwood's losses as a result of Richards' fraud were still within the range of $2.5 to $7 million and the guidelines should stand.
Ed Robinson, Richards' attorney, also pointed to more egregious crimes that were met with lighter sentences.
"Compare it to (former Illinois governor) Rob Blagojevich ... (former South Gate treasurer) Albert Robles ... (former San Diego Congressman) Duke Cunningham," Robinson said. "It doesn't seem right."
Blagojevich, convicted of trying to buy a U.S. Senate seat, received the longest sentence — 14 years — of the three public figures Robison cited.
The defense lawyers also pointed to mitigating factors, such as health concerns plaguing Richards' wife and daughter, which Robinson said "cry for mercy from this court." Robinson characterized the women's lives as a "living hell," but would not disclose details, citing the family's privacy.
Robinson asked for 10 years for his client.
The 57-year-old Richards pleaded directly with U.S. District Judge R. Gary Klausner to reunite him with his family.
"My wife of 33 years and my children were also convicted ... their sentence has been far more harsh than mine," Richards said, apologizing for his behavior and asking for leniency.
But Middleton countered that, "Mr. Richards was at the heart of every scheme."
Klausner said he was not persuaded that different guidelines should apply, but still used the court's discretion to order a slightly reduced sentence for each of the defendants.
The judge said he chose the low end of the sentencing range for Richards because of "confusion between the intended loss and the actual loss" to Lynwood.
And Klausner cut another 20 months from the sentence because of "the work the defendant has done in jail and the disparity between sentences."
Harris was re-sentenced to 66 months. She has been free on bail since 2011 and was taken into custody immediately following the judge's ruling.
Thomas received a new sentence of 112 months.
Richards was also ordered to pay restitution of $787,280 to Lynwood.
The parties have 14 days to appeal the ruling.