Actress/singer Simone files suit against former lawyers
Mishandling of mother's estate R&B singer Nina Simone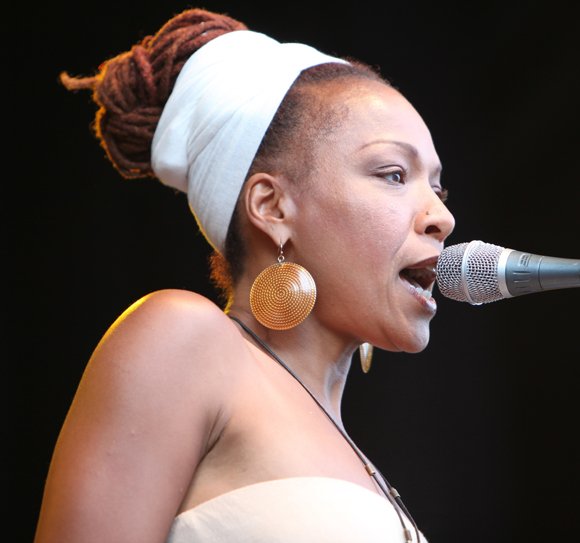 Actress/singer Simone is suing her former lawyers for allegedly mishandling aspects of the estate of her mother, legendary jazz and R&B singer Nina Simone.
Simone filed the breach-of-contract suit Friday on behalf of herself and her mother's estate — for which she serves as administrator — against the Los Angeles law firm of Weinstock, Manion, Reisman, Shore & Neumann. She is alleging damages of at least $450,000 alone due to potential penalties and interest assessed by U.S. tax authorities.
Along with the firm, the suit names as defendants Weinstock lawyers Sussan Shore and Blake Rummel. Neither attorney immediately responded to emails seeking comment.
According to the complaint, Simone, also known as Lisa Simone Kelly, hired the Weinstock firm in 2003 and used their services until November 2009 to help in the resolution of her mother's estate. Nina Simone died in April 2003 in France at age 70 after suffering from breast cancer for several years.
According to the complaint, the Weinstock lawyers did not determine whether Nina Simone was a "French domiciliary" when she died, nor did they consider the impact on her daughter's interests when the court instead determined that her mother was a California resident.
The firm also "failed to file the necessary estate tax returns or timely extension requests, or ensure that a procedure was set up such that the returns or requests were timely filed; did not seek to properly distribute the assets of the estate; initiated a will contest that was unlikely to be resolved in (Simone's) favor;" and "sought to contest matters that should not have been contested."
Simone filed a similar lawsuit against the Weinstock firm in June 2010, but then requested dismissal of the complaint 15 months later. The new complaint states that within the last year before filing the current suit, Simone learned that the defendants "failed to properly represent plaintiff in accordance with the standards in the community in numerous ways and manners."
Simone, 51, had a role in the stage play "Jesus Christ Superstar."
Nina Simone's career spanned parts of three decades beginning with her 1958 album "Little Girl Blue." She also was active in the civil rights movement.