Aaron Hernandez fiancee, cousin, associate indicted
Hernandez is charged in the death of Odin Lloyd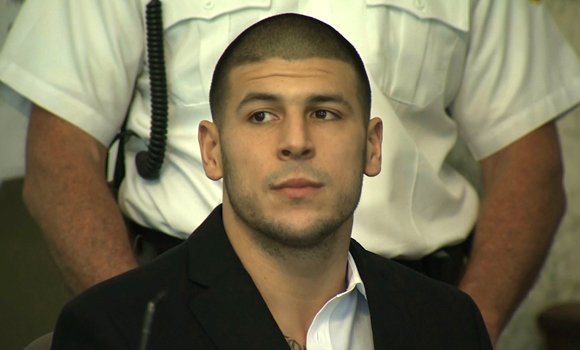 Former NFL star Aaron Hernandez's fiancee, cousin and an associate have been indicted in connection with the investigation into the June 17 killing of semipro football player Odin Lloyd, Massachusetts.
Carlos Ortiz, 27, of Bristol, Connecticut, was indicted on a single count of accessory to murder after the fact in connection with Lloyd's death, Bristol County District Attorney Sam Sutter said in a written statement Friday. Ortiz will be arraigned October 18 in Fall River Superior Court.
Hernandez has pleaded not guilty to first-degree murder in Lloyd's death.
The former New England Patriots tight end's fiancee, Shayanna Jenkins, 24, is accused of a single count of perjury. She was indicted last week and will be arraigned October 15.
His cousin, Tanya Singleton, 37, also of Bristol, was indicted on a charge of "conspiracy to commit accessory after the fact." She pleaded guilty Monday and is being held without bail, according to a court statement.
Singleton, who was already being held on a previous indictment for contempt of court by allegedly refusing to testify before a grand jury, saw both of the cases against her combined, and is scheduled to appear October 24 for a pretrial hearing.
In search warrant affidavits obtained by CNN in August, authorities alleged that Jenkins and Singleton "have all made overt attempts to hide evidence, render assistance for suspect to elude law enforcement, and to hinder and mislead this investigation."
News of the indictments came after a bail reduction hearing Thursday for another co-defendant, Ernest Wallace, in Fall River, Massachusetts, revealed new details in the murder case against Hernandez.
Bristol County prosecutors, according to spokesman Gregg Miliote, told a judge that Hernandez was the only one who got out of a car with Lloyd in a deserted industrial park before Lloyd was allegedly shot multiple times, execution-style, by Hernandez. Lloyd's body was found about a mile from Hernandez's home in North Attleboro.
That's different from an earlier scenario laid out by investigators.
At first, Ortiz allegedly told investigators that Wallace and Hernandez got out of the car with Lloyd before shots were fired.
Since then, prosecutors say, Ortiz changed his story.
"Initially, Mr. Ortiz's statement was Mr. Wallace got out of the car and now his statement is that Mr. Wallace stayed in the car," Sutter said outside of court Thursday.
Asked by a reporter whether he was concerned about the fact that Ortiz had changed his story, he replied: "Not at all."
Ortiz's lawyer, John Connors, declined comment on why Ortiz may have changed his account.
"Almost every case I've ever been involved in, the story changes during interrogation," Connors said. "When a professional interrogation takes place, at the end of it sometimes you have trouble remembering your own name."
Connors stopped short of using the word credible to describe his client.
"He's a young guy who got caught up in a situation, and when all this came about, he was frightened and confused, as you can imagine anyone would be," he said. "I believe he's an honest guy."