West Coast Expo opens Friday
Information, education entertainment offered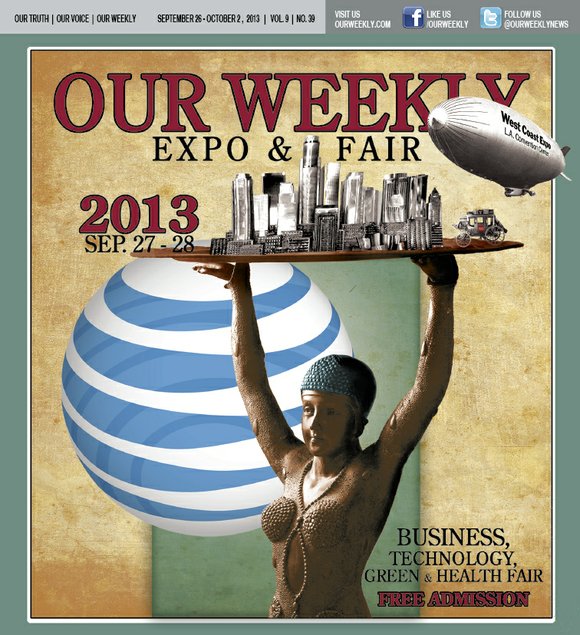 Growing your business
Sometimes it's the little things that can make a difference between success and failure when you are building a small business.
The 2013 West Coast Expo is presenting a number of workshops designed to help take entrepreneurs to the next step in growing their businesses.
Here is what is offered on Friday Sept. 27:
• Growing Your Businesses Through Banking" will be held from noon-1:30 p.m. in Room 304C at the Los Angeles Convention Center.
The presentation by US Bank will focus on helping business owners maintain their existing customer base in addition to expanding. Presenters will introduce the bank's Small Business Growth Package that can be used as a loyalty program. Attendees can learn to devise a plan for using this program in their company.
• During a workshop from noon-1:30 p.m. in Room 306B, the Small Business Administration (SBA) will introduce attendees to the resources available from the federal government agency to help start, grow, and expand their business. Particular focus will be placed on accessing capital through the SBA guaranteed loan program.
• "Using the Fastest Growing Marketing Platform to Grow Your Business: Mobile Marketing Meeting Small to Medium Business Goals," is sponsored by AT&T from noon-1:30 p.m. in Room 304A.
• The presentation "Taking Care of Business with the Small Business Administration" (SBA), sponsored by Chase in Room 304C from 2-3:30 p.m., will teach entrepreneurs how financial institutions utilize the SBA to help support small business growth and expansion.
• Business owners interested in learning about opportunities connected to the Los Angeles County Metropolitan Transportation Authority CleanTech Initiative can find out details from 2-3:30 p.m. in Room 306B.
Metro officials will provide information on procurement opportunities connected to the agency's new cleaner technology program including renewable energy, emission reduction, installation of solar panels, electric vehicle charger operations and the bio-methane program.
• "Get it in Writing: Survey the General Structure of Business Agreements, Discover the Tricks, Triggers, and Red Flags Need to Look for and Business Terms You Just Can't Do" is scheduled from 2-3:30 p.m. in Room 304A. Attorney Shaune B. Arnold will discuss some of the basic principles that make a contract an enforceable agreement. You will also learn how to terminate a contract properly, without triggering litigation. She will survey a myriad of provisions that must always be in a contract, as well as additional provisions that should never make it into print (negotiate these out every time). We will explore ethical considerations in contract formation and performance, foolproof ways to deal with the "risk of loss" inherent in product transactions, and what to do when things go wrong in a business relationship.
• "Access to Capital," presented by Wells Fargo Bank from 2-3:30 p.m. in Room 304B, will provide information to small business owners who are interested in obtaining funding from financial institutions or Community Development Financial Institutions (CDFI) financing intermediaries to help grow their business.
CDFIs supply the tools enabling economically disadvantaged individuals to become self-sufficient stakeholders in their own future. These tools include providing financial services, loans, and investments; offering training and technical assistance services; and promoting development efforts that enable individuals and communities to effectively use credit and capital.