Former boxer arrested for 1987 cold case murder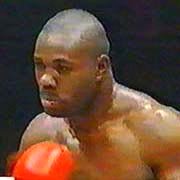 LOS ANGELES, Calif. — A former professional boxer was arrested today for the 1987 murder of his manager, Los Angeles police said.
Exum Speight, 50, was arrested an undisclosed location in San Fernando based on warrant issued Tuesday charging him with murder in the death of Douglas Stumler, according to cold case detectives with the Robbery-Homicide Division.
Stumler, who worked for the county Housing Authority, was found dead in his apartment in the 1200 block of South La Cienega Boulevard in West Los Angeles by a friend who went to check on him, police said. The cause of death has not been disclosed.
Police credited the arrest to a grant from the National Institute of Justice that enabled detectives to come up with DNA evidence incriminating Speight, who was known for his 1996 loss to Russian Wladimir Klitschko, then the heavyweight champion.
Stumler was a native of Indiana who moved to Los Angeles after graduating from the University of Indiana about six years before his death. He had been managing Speight for about two years when he was killed.
Speight is scheduled to be arraigned Thursday at the Airport Branch Courthouse.